Visiting a langar
February 20, 2007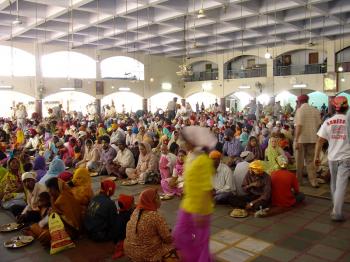 The entire meal, the ingredients, the preparation and the cleanup, all of it is donated by the community. Everyone eats together as equals, sitting side by side at the langar.
In one week's time the Doors of Perception: JUICE round table workshops will begin in Delhi. Despite all of the tragic news that we heard today, I'm still looking forward to going. I thought I'd post some photos of the langar that I attended at the Gurdwara Bangla Sahib, the last time I was there in 2005. A langar is a Sikh 'free kitchen' and eating there (and working there to help prepare the communally produced food) is one of the Three Pillars of Sikhism. The practice was introduced by the first Sikh Guru, Guru Nanak to ensure feelings of equality amongst all Sikhs, who regularly sit down and eat food together in these ritual meals.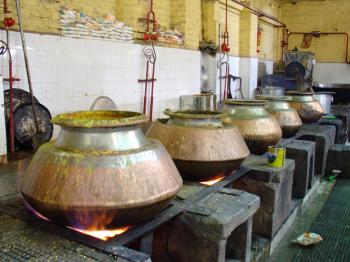 Cookin' up one heq of a lot of lentil soup at the langar
The food is vegetarian so that everyone will feel comfortable joining in and eating. Community members donate one-tenth of their wealth to the Gurdwara's food stores. Any auspicious occasion is reason enough for a family to volunteer and work preparing food for the langar.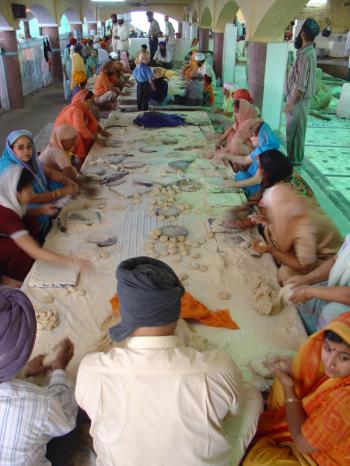 Community members help roll out the chapati on a long fabric and flour covered surface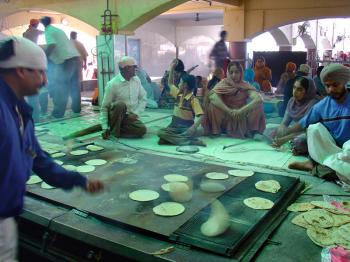 A very dynamic chapati frying moment. The community members herd their chapatis over the enormous frying area. No oil is used.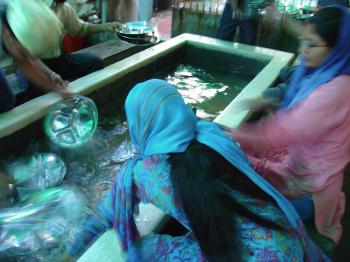 The best part (I think) is the dishwashing zone. In what looks like the world's longest one lane swimming pool, but then made of marble, community members toss the dirty stainless steel plates from vat to vat, clattering the dishes and making the most enormous din possible. After the dishes have made it from one side to the other being nudged along and thrown and splashed, and all of the dishwashers are soaking wet from what seems like a really fun waterfight, the dishes are deemed to be clean and are tossed into the 'clean cage' where they are left to dry before being passed around for the next sitting. Exquisite visually and accoustically!
debra at 2:30 | | post to del.icio.us
2 Comments »
Awesome!

Comment by Matt Wernecke — March 9, 2007 @ 23:20

Awesome!

Comment by Matt Wernecke — March 9, 2007 @ 23:20