Rampsterdamned
May 12, 2008

Culiblog author caught plucking and nibbling in an abundant field of ramps in Amsterdam
I'm a bad to the bone, flower plucking, fruit stealing, mushroom picking, herb snatcher that simply cannot walk by food growing in the public space without tucking in and filling my basket. And I wish that more people were like me and that more public space was used to grow food. It changes the way you feel about a place when you can also find your food there.
Inspired by Saturday's opening on the ramble, amble, saunter and stroll down at Marres in Maastricht, JB and I decided to test the notion on bike and headed out into the nearby nature with no particular plan in mind. Under the verdant canopy of the Amsterdamse Bos we encountered enormous patches of ramps, also known as wood leek, wild garlic, ail des bois and ail sauvage. The ramps were in bloom and I swear If I were a dog I would have rolled over on my back and done that doggy thing that dogs do in the grass.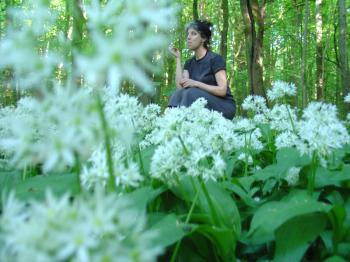 The leaves were tender and garlicky all right, and the flowers were dripping with nectar (!) a combination of green onion and fragrant honey aroma. I love it when the ramp leaves and flowers have different flavours. It was a demure forage-fest, but I'm going back for more today. Tomorrow when the composer comes home, I thought it would be fun to welcome him by dining on a picnic of locally stolen food.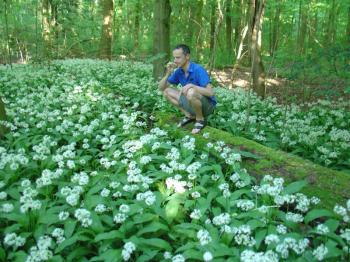 Partner in crime, JB nibbles a ramp while perched on a spongiform log
Ramsons: Scientific Name: Allium ursinum
Other names: Bear's Garlic, Broadleaved Garlic, Buckrams, Ramson, Wild Garlic, Wood Garlic
Family: Alliaceae

West Virgina ramp-lovers' website

Google ramp page - with links to images

Traditional ramp recipe and great photos of rampalicious food

Recipes for ramp kimchi and ramp confit from No Recipes dot com

Ramp Kimchi

1/3 C Red Chili pepper powder
1/3 C Myeolchi Aegjeot (Korean anchovy sauce)
1/3 C onion juice
1/4 C shredded daikon or carrots
5 scallions chopped
2 Tbs sesame seeds
1 Tbs sugar
1 Tbs corn syrup
1 tsp ginger powder

lots of ramps leaves separated and cleaned
Mix all the ingredients except the ramps in a bowl to combine. If you can't find the Korean anchovy sauce, you can substitute 3 Tbs Thai fish sauce + 1 Tbs soy sauce. If you want to make this vegan, just replace the fish sauce with soy sauce.

Lay down a layer of ramp leaves then paint a layer of the spice mixture on top. Repeat until your out of ramps.

Cover and refrigerate for about a week to fully pickle. These get better as they begin to ferment, so you can eat them for several weeks. When they start getting tart, this is the perfect time to turn it into Kimchi Jigae (kimchi stew).

another excellent ramp recipe:

lots of whole ramps cleaned
lots of EVOO (?????)
fresh ground black pepper
sea salt

Pre-heat oven to 350°F/190°c.

Lay the ramps in a baking dish sprinkling a bit of salt and pepper between each layer. Douse the whole thing with an ample amount of olive oil (you don't want it swimming, but you want it to be covered in oil).

Roast for 15-20 minutes or until the ramps are completely wilted and any liquid that has come out has evaporated.

Eat on a crusty baguette, on a pizza or in a tart. These are also delicious blended into a vegetable soup (ramp and corn chowder anyone?).

From NoRecipes.com - with 2 of my top 10 favourite ingredients… bacon and nuts. Bacon occupies the top 3 entries of my favourite foods list.

Wonderful website about foraging for food

King of stink website purports that ramps make you fart. I disagree with them but enjoyed their website.

Eat yer ramps according the US Dept of Agriculture

West Virginia's dedicated ramp (and forest foraging) website. Cultural heritage abounds!

Peggy Tolleson's excellent cookbook, Wild Garlic, an interesting read!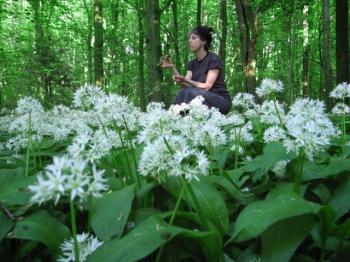 debra at 13:42 | | post to del.icio.us
12 Comments »