Food-related film at the Shadow Festival
November 17, 2006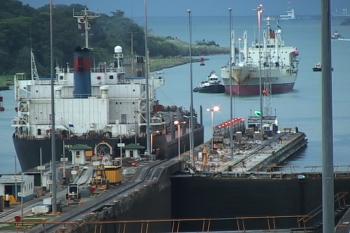 Film still from Allan Sekula's The Lottery of the Sea (2006) for once image used entirely with permission
A quick scan of the seventh edition of Amsterdam's Shadow Film Festival, (November 21-29) and I see the programme is larded with food-related films. Thank gawd for programmers doing this without even noticing, because when they do notice, they tend to programme vile romcoms, the scourge of the genre. But the Shadow Festival, known in my possee as the Thinkin' Gal's Documentary Fest is always above all that and this year they're showing work by one of my favourite artist/filmmakers.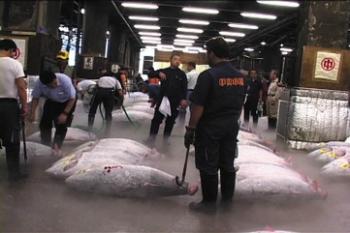 Film still from Allan Sekula's Tsukiji (2001) showing tuna being moved around like bars of gold, used entirely without permission
I'm a big fat fan of Allan Sekula and pretty much anything that he produces about the seas. I remember his 2002 photo installation at the Documenta XI about people working in the fishing industry. There was one particular photograph amongst the hundreds of the ship formerly known as the Exxon Valdez, at the very moment that its name was being overpainted. That ship, that moved around all that oil, that in turn moved around all that food we eat and all that stuff we buy, bleeding out over the ocean's surface, lifeblood upon lifeblood. The photograph was just a portrait of the man whose job it was to paint over 'that name', but it was chilling, gives me gooseflesh everytime I think about it.
In 2001, the Shadow Festival featured an afternoon with Sekula and a screening of his yet to be finished Fish Story, later to be titled, Tsukiji. Now I'm counting the days until I can view a screening of the Lottery of the Sea. For nerds there will even be a special lecture by Sekula the very next day (Monday, November 27) which I unfortunately will not be able to attend because although on sabbatical, I have agreed to teach some youngsters a thing or two. If you're in town and you haven't heard Sekula speak, you will definitely want to do so - he is warm and engaging and he interacts for realisies with his audience.
There are all manner of interesting documentaries being screened at the festival, but here's the culiblog super shortlist of food-related film at the Seventh Edition of the Shadow Festival in Amsterdam:
Easy Riders
Ane Ose (Norway) / 15 min
Melkweg - Thursday, November 23rd at 16:00h
The Lottery of the Sea
Allan Sekula (US) / 179 min
Melkweg - Sunday, November 26th at 19:30h
Lecture by Allan Sekula
"Eleven Premises on Documentary and a Question"
Allan Sekula (USA)
Melkweg - Monday, November 27th at 14:00h
Oliva Oliva
Peter Hoffmann (Germany) / 68 min
Melkweg - Monday, November 27th at 19:30h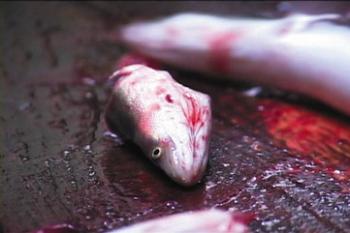 Film still from Allan Sekula's Tsukiji (2001) showing the beheading of eels and the twitching man who does 'all that work', used entirely without permission
From the Shadow Festival programme: In 1776 Adam Smith compared the life of the seafarer to gambling. This offbeat diary traces the "innocent" summer of 2001 through to the current "war on terror" through a journey from seaport to seaport and coast to coast. The film is a panoramic adventure, crossing the globe with a filmmaker who is armed with a good sense of irony, personal convictions, and relentless curiosity regarding everything around him - from people to power structures.
Lottery of the Sea (2006) asks the question: Is there a relationship between the most frightening and terrifying concept in economics—risk—and the category of the sublime in aesthetics? In nearly three hours, the film documents the period leading up to the current "war on terror" all by way of a meandering, essayistic voyage from seaport to seaport, waterfront to waterfront, coast to coast. Sekula, a native Californian, also makes stops at blizzards and demonstrations in New York, drifting prehistoric mastodons in Los Angeles, militant drummers and bemused African construction workers in Lisbon, millionaires or millionaire-impersonators in Amsterdam and the stray dogs of Athens. Always on his mind, however, remain thoughts about the sea, the market and democracy.
debra at 0:31 | | post to del.icio.us
No Comments »