Making Roti with Jogendra (play with your food)
December 31, 2004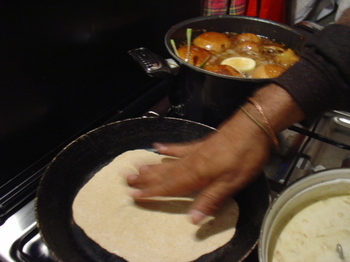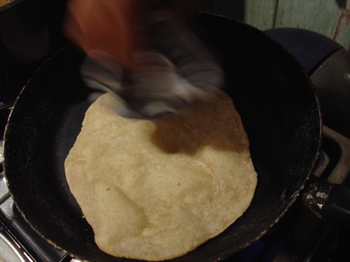 I have my way.
Jogi has his way.
But you can tell by his name that its his birthright to know how to make a better roti.
If you make the roti MY way they puff up like pillows. My way involves a lot of not doing anything and getting the heat right. (Plus you get to use up some of the chicken fat from your ever expanding chicken fat collection.)
If you make rotis Jogi's way, they also puff up like pillows, but you get to play with them constantly and tamp them down with a tea towel, in my opinion the last thing to do to make something puff up. I stand corrected.
Pictured below is another way to make roti in which you start out in the pan and then dump them right onto the flame. It was a regular Occitanian roti circus tonight.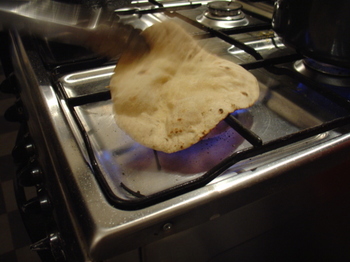 debra at 0:51 | | post to del.icio.us
2 Comments »
I saw the List of 50 and I've eaten 41. The only one on their I haven't that I would want to is the Moreton Bay Bugs, which look like small lobsters. Yum.

On your list, I've eaten most of those too.

What I would like to see on the list…

thin crust NY style Pizza
hummus
shrimp fra diavolo
salt and pepper squid
dungeness crab!

I would not want to eat Durian fruit which I have heard is pretty good but has a fierce smell. The smell would take away from the experience for me. I expect fruit to smell sweet, not weird and strong.

I agree there were several things missing from that list. I guess they did a survery on their site and those were the Top 50. Maybe there was something wrong with the people who wrote in!

Thanks for your update of the list. I enjoyed reading it.

Happy New Year.

RisaG