Lace, about faceAnder Kant
April 6, 2006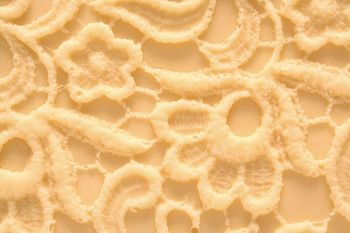 Image of white chocolate lace detail, by Katja Gruijters, courtesy of the designer
Aren't these edible lace tiles by food designer Katja Gruijters exquisite? She makes them out of caramel, white and milk chocolate and sand tart. They feature prominently in an exhibition on contemporary lace design titled, 'Ander Kant', (literally 'other lace', or 'other side') at the Boijmans van Beuningen Museum in Rotterdam.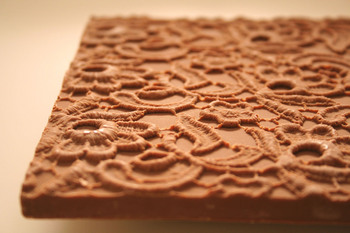 Image of a milk chocolate tile, by Katja Gruijters, courtesy of the designer
The collection is on sale at the Boijmans van Beuningen Museum shop but you can also find out more about them at Katja's website.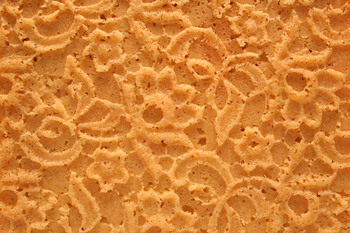 Image of a sand tart tile, by Katja Gruijters, courtesy of the designer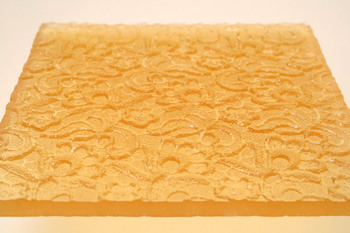 image of a caramel tile, © Katja Gruijters, courtesy of the designer

I apologise in advance for the English of my fellow country men and women. Dutch cultural institutions don't like to fuss with having a native English speaker edit their texts, preferring instead to make a muddle of it, something they consider to be charming and due pay-back for allowing newcomers into their country, and letting them speak the Dutch language.
Other Kant
Exhibition from 28 January 2006 till 30 April 2006
A striking number of contemporary designers have been inspired by traditional lace over the past few years. This is surprising, for at a first glance the elaborate bobbin lace or sumptuous needlepoints seem to be the opposites of fast, modern and contemporary (industrial) design. Because Museum Boijmans Van Beuningen is the only Dutch museum to have collected both modern and old laces, it seems only logical to combine the two kinds. Two guest curators, the stylists Hanneke Kamphuis and Hedwig van Onna, have spent the last few years studying this other aspect of lace together with experts in the field of textile art in our museum to find out whether there really is a link between them.
debra at 1:47 | | post to del.icio.us
4 Comments »