Shana tova
September 21, 2006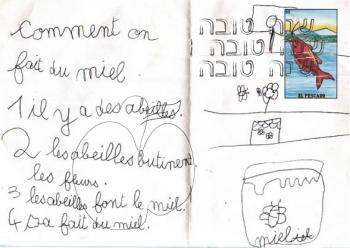 Get a gander at the cool card I got from my friends Liora and Carlos. 'My First Rosh Hashana Art' was made by Carlos Jadraque who channeled himself into the body of an 8 yr. old Jewish girl with impossible hair, in order to create this work. That's the spirit, Carlos!
Dear Friends, Friends of Friends, Friendly Family and good folks I haven't yet met,
Happy New Year.
May the MASSIVE FAT AND LASTING BIG ASS SHALOM reign down upon us ALL.
Every single last one of us.
May we all have the grace to behave a little more like the mishpocha that we are.
Carpe diem, only ten days left to drop all our bad shit.
Love a dove dove,
Debra
-ps, fortunately not everyone sucks although I'm wary about peace becoming a design process
debra at 1:21 | | post to del.icio.us
2 Comments »
In case you\'re hard of hearing, the text reads:

Comment on fait du miel?
1. Il y a les abeilles.
2. Les abeilles butinent les fleurs.
3. Les abeilles font le miel.
4. Sa fait du miel.

How (do) you make honey
1. You take some bees.
2. The bees drink some flowers.
3. The bees make honey.
4. That\'s how you get honey!