Wonderfood in Arnhem
June 8, 2007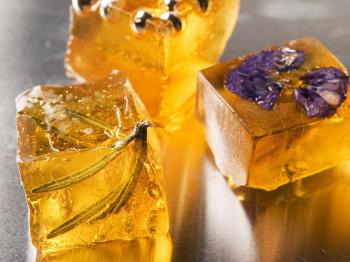 Rosemary and violet candy by Katja Gruijters, photo by Annemarieke vd Broek used entirely with permission
Last Saturday I was invited to experience the opening dinner of Dudok in Wonderfood. Caf├ę Dudok is a very forward thinking brasserie that during the Arnhem Fashion Biennial participates in the city-wide embrace of design and fashion. Dudok doesn't just pull out all the stops for 'fashion month' either, they do this several times a year. It's rare and commendable that a classical caf├ę/bar is so devoted to regularly breathing fresh life into their venue, that they make it a habit of dispensing with the classical grand caf├ę atmosphere and cuisine. They change their menu, train the kitchen staff to adapt, and alter the interior and service. It's as if Dudok actually believes that rot about collaborating with designers!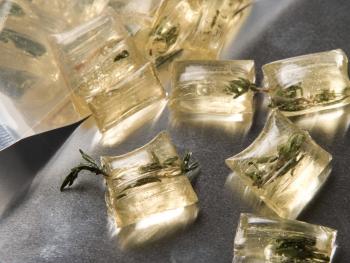 Coreander candies by Katja Gruijters, photo by Annemarieke vd Broek used entirely with permission
This year the theme of the fashion biennial is 'happy' (no comment, I'm a bitch) and designer Katja Gruijters was called upon to design the 'food concept' that became Wonderfood.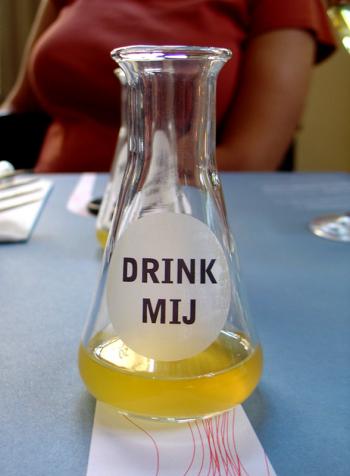 Okay, I'll drink you. I'll drink you up.
Without giving away any secrets, and there are secrets worth keeping, I can tell you a bit about a menu which will put your mind to wondering, in the most positive sense of the word. It's an embellished 3-course menu fixe with options for peskies and vegetarians. I had the vegetarian menu because this year I'm making something of a career of lording my ethical superiority over all of the omnivores I know. From a culinary standpoint, vegetarians are well aware that the veg-option is rarely the most delicious, but because I've been a porkatarian for so long I feel qualified to say that the Wonderfood lacto-ovo mains is wing-flapping delicious, non, je ne regrette rien!
I can go on about one flavour or another, and say that this was great or that was great, but what I actually really liked is that Wonderfood worked so harmoniously within the context of a caf├ę that also wants to put on its best Beligan designer outfit for fashion month. This is the success, that the dinner, the menu, even the place settings, appropriately position Dudok as a platform within the Biennial. Bravo.
Maybe the wonder in wonderfood stands not so much for wonderment as wondering. And though it would be unfair to compare this menu to a Michellin-starred dinner, it is fabulous to be confronted with uplifting combinations and narrative-rich ingredients and formats. Elixers and tears, sweet and salty crystals hailing from all manner of mines, Gruijters' Wonderfood is truly a happy-making dinner, and not just because of the mysterious rockin' silverware or the cock-ring - which ends up being totally useful, by the way!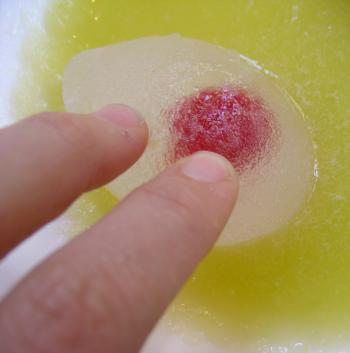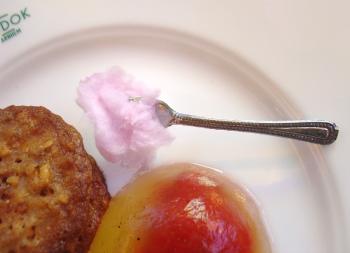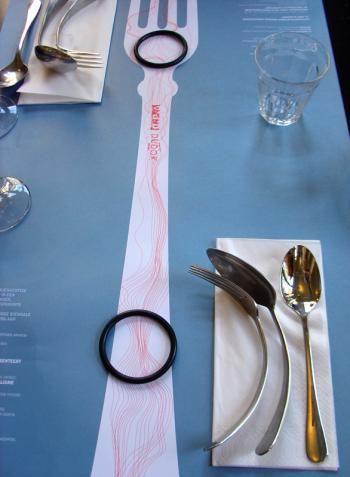 The cock-rings that end up being totally necessary!
debra at 19:02 | | post to del.icio.us
2 Comments »
Thank you for submitting Oumar Bengue's website in our blog, see you! ;)