Imagining Kate
April 9, 2008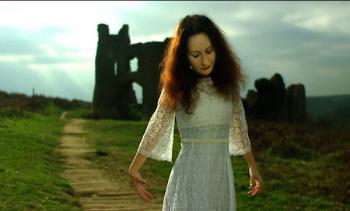 ="Come Back Kate film still by Quirine Rackť and Helena Muskens used entirely with permission
The Kate Bush Party at Mediamatic this Friday evening promises give-us-a-twirl dress-up, lighters-in-the-air sing-a-long and a generous format screening of Quirine Racké and Helena Musken's poignant art rockumentary Come Back Kate. The evening will also premiere the Imagining Kate cocktail, designed especially for the Ladies and the Mediamatic event. Hard to think of a better way to enjoy a Friday night, heterosexual men are welcome. Reserve now.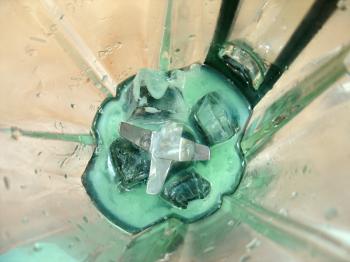 Imagining Kate cocktail innovation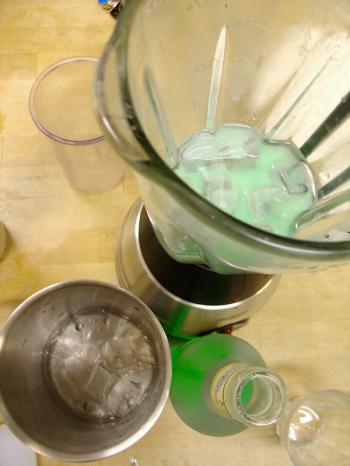 Imagining Kate Cocktail Recipe (serves 1)
Freeze cocktail glasses. In a blender combine:
- 40 ml absinth (55-60% variety)
- 15 ml orgeade
- 1 egg white
- dash of violet liqueur
- 6 ice cubes
- vanilla grains (1/16th of one pod)
Blend ingredients until frothy. Rub the rim of the glass with female pheromone solution. Swirl blender before pouring to ensure that all of the vanilla grains are poured along with the foamy cocktail.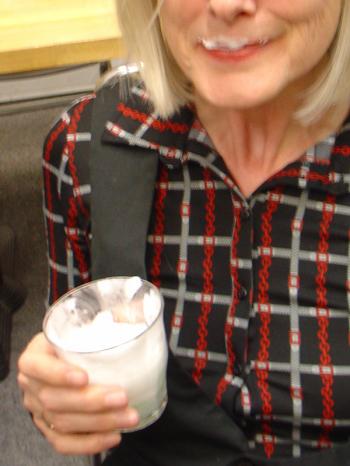 Taste testing the Imagining Kate cocktail. It has nice mouth feel, super sexy after-buzz, a light landing, and it leaves a pleasant mustache.
debra at 23:36 | Comments (2) | post to del.icio.us
Citrofiliac
April 4, 2008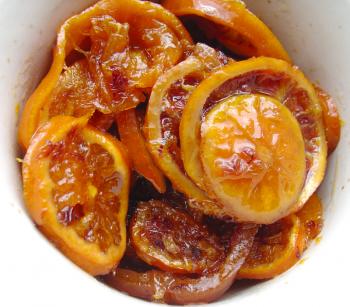 The Composer called me a citrofiliac! And though he seems to appreciate my cooking, he thinks I should use less citrus. Whatevs, by the time he gets back from his massive stint in the Old Country it'll be strawberry, soft fruit and rhubarb season. In lieu of citrussy freshness I'll show him every corner of the berry and the barb.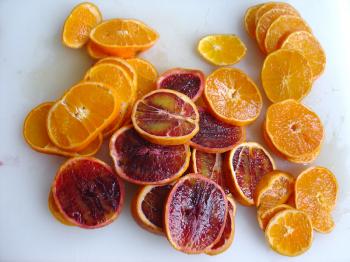 01 - Use up the fruit at the bottom of the fruit bowl. If it's not pretty enough to eat raw it's surely perfect for making marmalade. This batch is made from blood oranges and tangerines with their funky stuff cut off.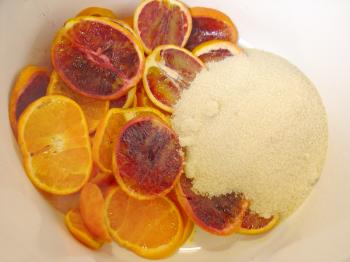 02 - In an enamel pot, add a bunch of sugar, I use raw cane sugar. Fire it up, and then turn the fire down. You want it warm enough to release the juices but not so warm as to carmelise the sugar.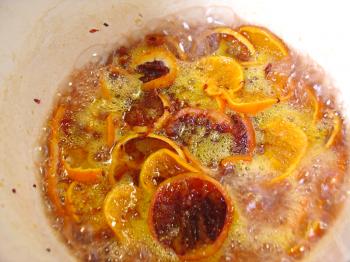 03 - Within minutes you'll get this, a bubbling and aromatic citrus loveliness! Keep the fire low and the lid off. You know how I feel about stirring, don't do it if you can help it. Marmalade making is more about paying attention to what's going on with the materials than mindlessly flailing a spoon. Think of this as perma-cooking!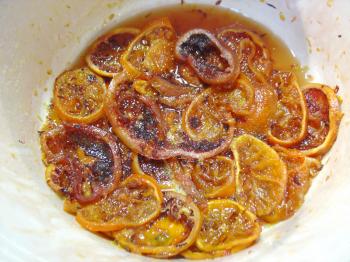 04 - Once the marmalade has cooked down a lot (this can take hours, just let it do what it does) turn off the flame and let it cool off. The marmalade is ready when you think the syrup is sufficiently thick. I like it almost candied and think the marmalade is most versatile in this form, as an ingredient in or atop other things.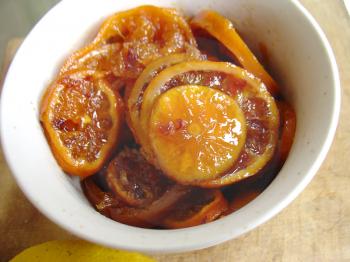 05 - If you want the marmalade to be more 'jammie', add more sugar to the volume. You can see that I just want an excuse to eat candied tangerines, stare out the windows and think about l'Hameau. This marmalade goes great on hangop or susme (thick fatty Turkish yoghurt) but can also be used on the bottom of a crumb crust if you're making a lemon tart. Or if you suffer citrofilial tendencies.
debra at 9:12 | Comments (0) | post to del.icio.us
In situ
Seitan innovation
April 3, 2008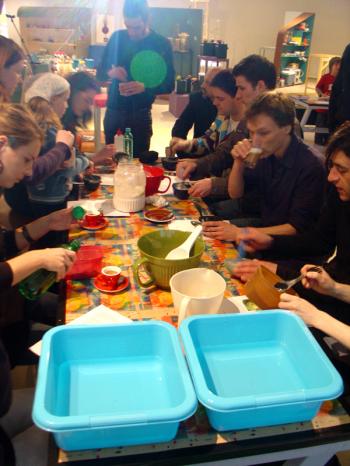 Dutch Seitan Designers at workshop
Last Sunday was the final day of Platform 21's Cooking and Constructing exhibition, and amidst the fiery debate and seitan design workshop, no one expected that any true innovation would take place. But due to the emphasis on show and do, I had to rush through my normal procedure and the result was a surprisingly newer-better-faster, less pain-in-the-assier method for making seitan. Scratch the lengthy steaming process of my previous recipe (otherwise a great recipe) and opt for a 20 minute boil instead. This will produce a better texture and a 1 hour cooking process.
The fact that we can now make seitan in 1/4 of the time just reinforces my notion that most recipes we think of as being time-consuming, can be simplified enough to become something doable. Think of Richard Bertinet's bread that is easy enough to just whip up whilst cooking dinner. Think of my homemade pasta 23 Layer Lasagne that is a magnificent hot mess of heaven. Recipes can be simplified, what an effing relief!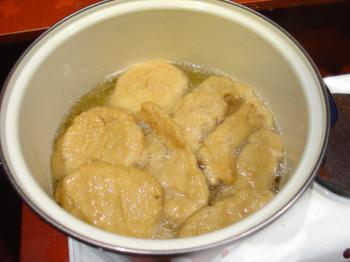 Instead of steaming the gluten dough for hours and hours, try tossing it into some boiling water for 20 minutes. The result is a puffier texture, making the deep-frying that follows, more effective. Boil the gluten in water for ~20 minutes, or until the gluten floats to the top. (The mage above is of deepfrying.)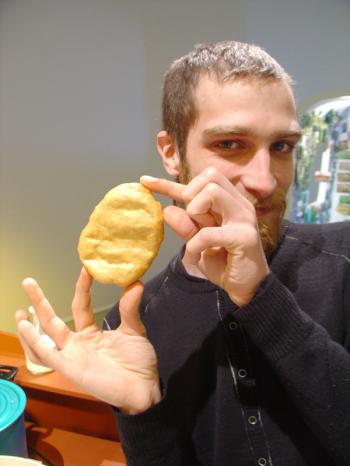 Ivan burns his fingers on some deflated seitan.
debra at 20:53 | Comments (0) | post to del.icio.us