When fish fall in love
February 13, 2006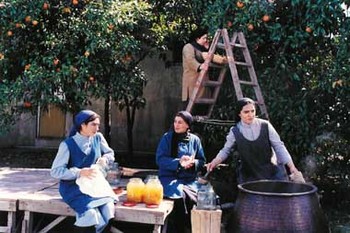 film still from When Fish Fall in Love, shows main character Atieh, her daughter and sisters preparing orange syrup in the garden. Image used without permission
When it comes to food-related film, I couldn't have made a better start at the Rotterdam International Film Festival. Drawing Restraint 9 had me reeling for days. Good for Drawing Restraint, bad for all the others that I saw directly afterwards. I had all but given up hope for finding a new approach to the genre, when I went to see the last film on my list.
When Fish Fall in Love saved me from being mired in bourgeois feel-good movies, films that are little more than romantic comedies with chefs and kitchens, gratuitous food porn, films that make audiences twitter at the thought of eating bull's testicles. Fish Fall in Love is Iranian theatre director Ali Raffi'i's first feature about two lovers being reunited after a twenty-year separation, and a new generation of about-to-be lovers, about to be separated.
Ex-political prisoner and Iranian émigré Aziz returns to his home at a Caspian Sea coastal village, where he finds that his former beloved Atieh, her daughter and two sisters have appropriated his family home and turned it into a restaurant. The film is shot like an old postcard from your grandparents' seaside holiday, complete with long images of regional specialities. In this film, no dish leaves the kitchen without making a cameo. Can you imagine jewelled rice doing the red-carpet walk at Cannes?
Ali Raffi'i spoke to the audience before the screening, explaining that this film was about the difference between the way his and the generation now in their twenties, express love for one another. His intricately developed characters convey the complicated situation of a generation (Aziz and Atieh) whose political passion (may have necessarily) precedes their passion for each other. This contrasts sharply with the generation of Atieh's daughter Touka and her Teheran beloved Reza, who are even driven to criminal acts in the hope of supporting their love.
Admirably, Raffi'i endeavoured to show a different view of woman than what he described as 'ordinarily portrayed in Iranian cinema'; a woman whose destiny is not dependent on the presence or hope for presence of a man in her life. Not being sufficiently familiar with Iranian cinema to judge, I had to think, 'Heq, come on over here, that's a hole in the market!' Until now, the art installation videos of Shirin Neshat and the British documentary filmmaker Kim Longinotto's Divorce Iranian Style were until now, my sole influences.
While Atieh is a strong character, supporting her daughter, two of her sisters and herself by running a small restaurant, she is also always really nervous about this role. Preparing lunch and dinner for only twenty, though she's been doing it for years, seems to be a monumental feat for her. Among the many kitchen shots of brilliantly presented 'home-style' cooking, the viewer is treated to beads of sweat on noses and upper lips, the wiping off of sweat from brows and the drenched backs of clothing. I'm thinking, 'Sister, what you need is a smaller menu.' But Atieh's unwieldy menu seems to represent traditional culture and her uncomfortable relationship with it.
The film's ending is deliciously open, giving few clues as to how Aziz and Atieh will give shape to their deep love and respect for one another in the future.This combined with Raffi'i's rich characters have given me room to identify completely with love's consequences for Atieh and Aziz. All that I am willing to give away, is that there is a cottage involved. I know that the next time I make orange syrup, this film will be the first thing on my mind.
technorati tags: International Film Festival Rotterdam, film, food-related film, cinema, Rotterdam, When Fish Fall in Love, Ali Rafi'i
debra at 14:01 | | post to del.icio.us
No Comments »