A F.A.S.T. food market
May 27, 2008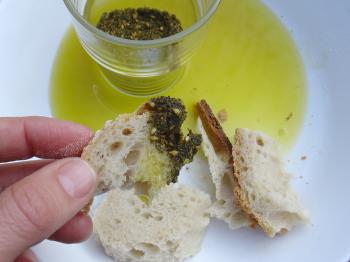 Gifted organic olive oil and za'atar from Ein Hud, an unrecognised village in Israel
Sustainability issues aren't only about green, sometimes they're even more fundamental than that. Food and food systems are an integral part of that story because food and agricultural policy is commonly used for strategic purposes. Malkit Shoshan is an Israeli architect and the founder/director of F.A.S.T. (Foundation of A Seamless Territory) dedicated to exposing the global abuses of ideological planning, as found in Israel's unrecognised villages like Ein Hud and in offering alternative solutions.
In June 2004 F.A.S.T. held an international architecture competition for a masterplan for the village of Ein Hud and will be opening it's cultural centre with festivities this September 2008. Shoshan asked me if I would investigate the possibility of initiating a farmers' market in Ein Hud and to see about developing some artisanal products to sell in it. The market would ostensibly sell local agricultural products like olive oil, herbs, medicinal herbs, honey and dates, and would give a welcome boost to the local economy. To entice me Malkit gave me a sample of Ein Hud's raw product line, za'atar (the quintessential Arab condiment mixture of marjoram, sumac, sesame seeds, and salt), fruity olive oil and melouchiya (a dried herb concoction that I'm still figuring out how to use).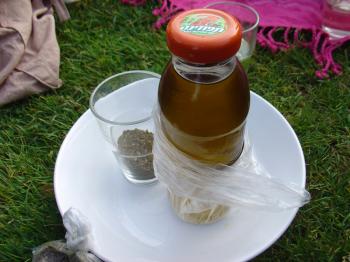 Vernacular packaging of local products from Ein Hud
From F.A.S.T. "The story of Ein Hud represents the history of the State of Israel, as an embodiment of two parallel societies, two parallel planning systems, one building, the other destroying. Ein Hod – Ein Hud is the story of two villages, each representing a different reality and completely opposite living conditions. The story of Ein Hud, south of Haifa, is a typical example of the complex reality of ideological planning in Israel and how such planning contributes to the Israeli-Palestinian tragedy."
Further reading:
F.A.S.T. (Foundation of A Seamless Territory)

Occupied Olive Tree Territories - Culiblog weighs in on the politics of agriculture

A Subjective Atlas of Palestine

Seamless Israel, visualise a country without unrecognised territories

Black Goat Law
Imposed by the government in 1950, the Black Goat Law caused a gradual reduction in the number of goats and in grazing pressure. A further reduction occurred in the 1980s, for socio-economic reasons. In some forest areas, grazing pressure even decreased much below the desirable level for effective elimination of dry herbaceous vegetation and regenerating evergreen shrubs and trees. This changeover from goat to cattle grazing encouraged the expansion and invasion of thorny shrubs formerly eaten by goats (Sarcopoterium spinosa, Calycotome villosa) into the forest's lower growth and open patches, thus resulting in dangerous levels of accumulated forest fuels.

Pine trees
The environmental effects of pine and eucalyptus trees, as described by a botanist: They acidify soil, devour nutrients and leach substances into the soil that repel other plants, such that micro-organisms in plantation land are deficient for years after harvesting.ť
Are all trees green? The spotlight on forestry
Text: Maria Johns
When the pioneers (sic) came to Israel at the turn of the century, they found bare hills and mountains and valleys filled with swamps. After years of hard work, disregarding the danger of contracting malaria, they managed to dry out the swamps by opening up the waterways of the rivers and by importing Australian eucalyptus trees, known to have large root systems. The experiment succeeded. The eucalyptus trees acclimated quickly and became instrumental in drying out the swamps.

Israelis also sought to forest the bare mountains and hills as quickly as possible. The Jewish National Fund started to plant pine trees because they grow quickly. Unfortunately, the trees were not suited to the climate and started to die after a few decades.

Territoria Magazine - pdf download

One Land Two Systems Newspaper - download the pdf

and recipes or pinings on za'atar:

The Jewish Daily Forward on za'atar. No appropriation here.

Wikipedia is so smart, please add to it.

On foraging for za'atar - is that now hyssop or marjoram or thyme? The article is about foraging, not about appropriation.

Za'atar recipe from Recipe Zaar

Mike Odetalla on Za'atar, a Palestinian American remembers za'atar and carries on the tradition of eating it
debra at 0:23 | Comments (3) | post to del.icio.us
On acting-out at dinner
May 20, 2008
Purple tablecloth, purple flowering chives and irises. Entirely too much purple at the dining table and an amuse comprised of an overly precious presentation of tofu, inspired my friends to spontaneously bust out a tongue-in-cheeky, anthroposophical pre-dinner recitation of grace. Holding hands.
Blessings on the blossom, blessings on the fruit, blessings on the leaves and stems, blessings on the root.
We peppered the rest of dinner playing 'Intentional Community' in which an exposure to hippy upbringing and culture provided compost for our niche humor. The fact that these particular friends actually do live in a (hippyish) collective made it all the more funny.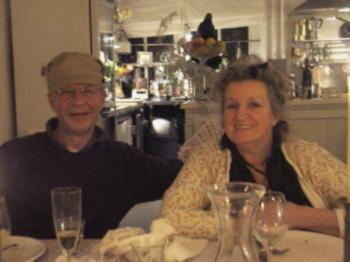 Intentionally crap fake family photography, Ma and Pa had only just met hours before.
A month before that and with another group of friends, we suddenly found ourselves at a Sunday dinner playing 'Ageing Urban Family' taking on ill-fitting traditional roles. Downward-facing dogme.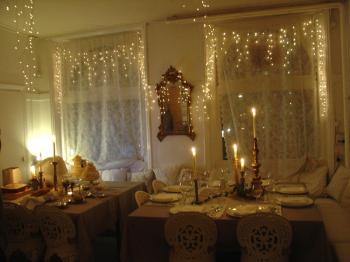 Interior for family dinner, players requesting anonymity
Interesting phenomena but despite the amplifications, it is sort of sweet & healthy that we're spending family moments sharing home-cooked meals together.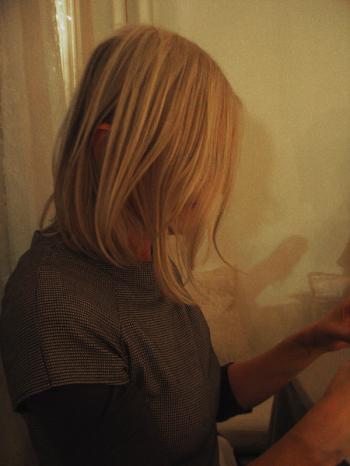 Sister, put down the cellphone.
The anthroposophical blessing referred to above was actually this one, recited by the Composer, in the role of Hippy from the Zonnewende Collective. In Dutch and below an English translation:
Aarde droeg het in haar schoot
Zonlicht bracht het rijp en groot
Zon en aarde die ons dit schenken
wij wilen dankbaar aan u denken
Ook de mensen niet vergeten
die bereiden ons het eten.
Loosely translated and with poetic license:
Earth who gives to us this food
Sun who makes it ripe and good
Dear Earth …. Dear Sun
By you we live
Our loving thanks to you we give…..
Also those for us who did prepare
We're thankful for this Sun and Earthly fare.
debra at 14:27 | Comments (4) | post to del.icio.us
Rampsterdamned
May 12, 2008

Culiblog author caught plucking and nibbling in an abundant field of ramps in Amsterdam
I'm a bad to the bone, flower plucking, fruit stealing, mushroom picking, herb snatcher that simply cannot walk by food growing in the public space without tucking in and filling my basket. And I wish that more people were like me and that more public space was used to grow food. It changes the way you feel about a place when you can also find your food there.
Inspired by Saturday's opening on the ramble, amble, saunter and stroll down at Marres in Maastricht, JB and I decided to test the notion on bike and headed out into the nearby nature with no particular plan in mind. Under the verdant canopy of the Amsterdamse Bos we encountered enormous patches of ramps, also known as wood leek, wild garlic, ail des bois and ail sauvage. The ramps were in bloom and I swear If I were a dog I would have rolled over on my back and done that doggy thing that dogs do in the grass.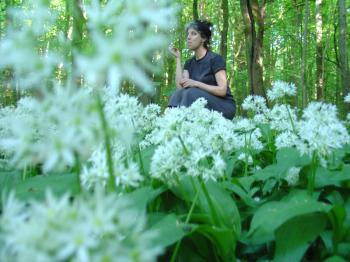 The leaves were tender and garlicky all right, and the flowers were dripping with nectar (!) a combination of green onion and fragrant honey aroma. I love it when the ramp leaves and flowers have different flavours. It was a demure forage-fest, but I'm going back for more today. Tomorrow when the composer comes home, I thought it would be fun to welcome him by dining on a picnic of locally stolen food.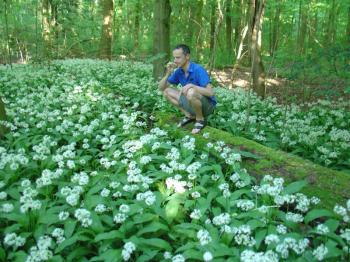 Partner in crime, JB nibbles a ramp while perched on a spongiform log
Ramsons: Scientific Name: Allium ursinum
Other names: Bear's Garlic, Broadleaved Garlic, Buckrams, Ramson, Wild Garlic, Wood Garlic
Family: Alliaceae

West Virgina ramp-lovers' website

Google ramp page - with links to images

Traditional ramp recipe and great photos of rampalicious food

Recipes for ramp kimchi and ramp confit from No Recipes dot com

Ramp Kimchi

1/3 C Red Chili pepper powder
1/3 C Myeolchi Aegjeot (Korean anchovy sauce)
1/3 C onion juice
1/4 C shredded daikon or carrots
5 scallions chopped
2 Tbs sesame seeds
1 Tbs sugar
1 Tbs corn syrup
1 tsp ginger powder

lots of ramps leaves separated and cleaned
Mix all the ingredients except the ramps in a bowl to combine. If you can't find the Korean anchovy sauce, you can substitute 3 Tbs Thai fish sauce + 1 Tbs soy sauce. If you want to make this vegan, just replace the fish sauce with soy sauce.

Lay down a layer of ramp leaves then paint a layer of the spice mixture on top. Repeat until your out of ramps.

Cover and refrigerate for about a week to fully pickle. These get better as they begin to ferment, so you can eat them for several weeks. When they start getting tart, this is the perfect time to turn it into Kimchi Jigae (kimchi stew).

another excellent ramp recipe:

lots of whole ramps cleaned
lots of EVOO (?????)
fresh ground black pepper
sea salt

Pre-heat oven to 350°F/190°c.

Lay the ramps in a baking dish sprinkling a bit of salt and pepper between each layer. Douse the whole thing with an ample amount of olive oil (you don't want it swimming, but you want it to be covered in oil).

Roast for 15-20 minutes or until the ramps are completely wilted and any liquid that has come out has evaporated.

Eat on a crusty baguette, on a pizza or in a tart. These are also delicious blended into a vegetable soup (ramp and corn chowder anyone?).

From NoRecipes.com - with 2 of my top 10 favourite ingredients… bacon and nuts. Bacon occupies the top 3 entries of my favourite foods list.

Wonderful website about foraging for food

King of stink website purports that ramps make you fart. I disagree with them but enjoyed their website.

Eat yer ramps according the US Dept of Agriculture

West Virginia's dedicated ramp (and forest foraging) website. Cultural heritage abounds!

Peggy Tolleson's excellent cookbook, Wild Garlic, an interesting read!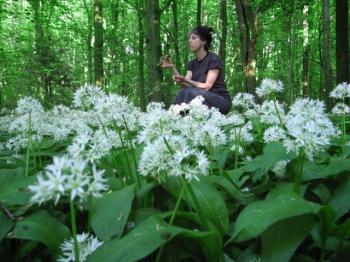 debra at 13:42 | Comments (12) | post to del.icio.us