The Tofu Section
May 7, 2004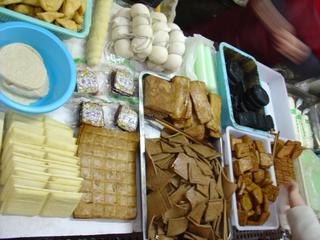 A tofu stand at the open market in Nanjing.
The black tofu is 'aged' and has a smell that takes some getting used to, but once you get past the aroma it is very mild of taste. It might take awhile to get past the aroma. I didn't succeed.
Click image to see a different tofu stand.
debra at 14:50 | | post to del.icio.us
No Comments
Sorry, the comment form is closed at this time.