Hey that's stealing!
December 24, 2004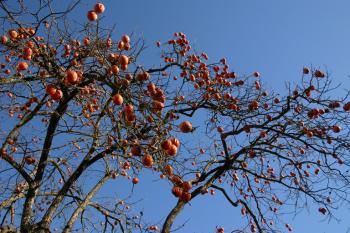 Persimmon photo by Kristine Malden
A jaunt over to the Accidental Hedonist weblog and what do I see? A link to a list compiled by the BBC of 50 things to eat before you die. If you ask me, this list, compiled by reader survey is pretty piss poor. I'm still a spring chicken (according to my mother) and I've only got 6 items to go and 50 euros says alligator tastes pretty much like chicken.
Here is a list of things missing from the BBC list of 50 things to eat before you die:
- kosher dill pickles
- olives
- peaches
- fresh corn
- uni sushi
- avocados
- burgus
- chokes
- aioli
- bernnaise sauce
- bacon
- wild boar entrecot
- leafy greens
- saffron
- humble pie
What else is painfully missing from this list?
Both a Full English! and Eggs Benedict should be listed but are not.
- Kim Chi? Not on the list
- stolen figs (lots of fruit tastes better stolen)
- persimmons stolen from the neighbours, frost on em, in the dark, sucking blindly, they never make it to the basket; not on the list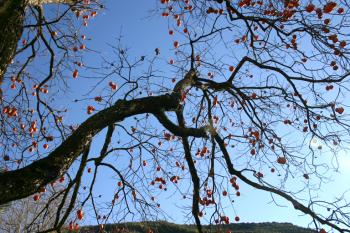 Persimmon photo by Kristine Malden
- kale plucked fresh from the garden by moonlight on the shortest day of the year, the grass crisp with frost. I just did this today and I'm glad I didn't die before doing so or get killed with regard to the stolen persimmons.
50 things you should eat before you die
Accidental Hedonist weblog entry
debra at 2:00 | | post to del.icio.us
2 Comments
Interesting to see that many of the top fifty are infact Australian Ingredients…ie Australian Meat Pie, Barramundi, Kangaroo and Moreton Bay Bugs.

Strange to see that there was no Native Australian herbs or spices such as Wattleseed, Paperbark, Lemon Myrtle or Akudjura in the list.

Our TV Series, Dining Downunder - http://www.dining-downunder.com shows viewers on how to use these ingredients and incorporate them in to every day cooking.

I have a list of recipes that use these ingredients at http://www.benjaminchristie.com/recipes

For me personally I have tried 48 of the 50 with just Guinea Pig & Haggis to go.

Cheers

Benjamin

Comment by Benjamin Christie — December 31, 2004 @ 5:46

Why do you think the list has so many Australian ingredients? Ainsley is pictured and he's not an Aussie but probably good response from down under to the survey. Silly survey that probably never should've been published.

I wonder who would make a better 'sort of definitive' list- experts or layfolk.?
Sorry, the comment form is closed at this time.