In Praise of Shadows
October 19, 2006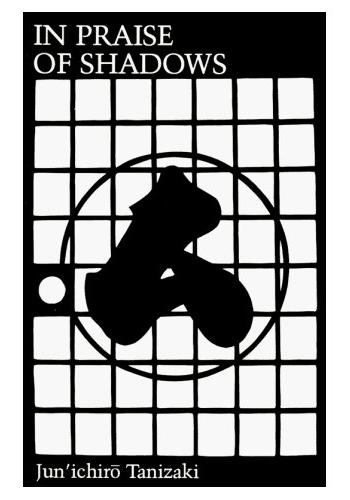 In Praise of Shadows by Jun'ichiro Tanizaki, cover art by Yukio Futagawa used entirely without permission
"The sun never knew how wonderful it was, until if fell on the wall of a building," said architect Louis Kahn. I didn't expect to bump into him so soon, having just returned My Architect to the videotheek. But this morning I found myself contemplating the dark pallet of Autumn vegetables and sef-drying fruit accumulating on my counter and what a beautiful still life it had become. As I walked past a stack of books begging for order, I refound an old favourite and opened the book to this recipe for persimmon leaf sushi. Could be that these are the most worn pages in this book that is otherwise about Japanese aesthetics and the notion of shadow framing light. The Kahn quote graces the first page. A serendipitous Autumn morning read.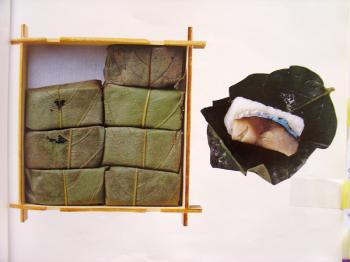 Photograph of a photograph from Ekiben, the Art of the Japanese Box Lunch by Junichi Kamekura, Gideon Bosker, Mamoru Watanabe and with photographs by Masaru Mera used entirely without permission
It's not the season, it's not the location, but the recipe inspires me today. I'll adapt it by substituting mackerel and chestnut leaves. To be true to Dutch terroir I should really also substitute the rice for some barley, (gort) but that's an experiment for yet another day. The possibility of using barley like rice does inspire me to rethink the Hungry Gap food of last Spring.
The following is an excerpt from Jun'ichiro Tanizaki's 1933 In Praise of Shadows, and used entirely without permission, or should I say entirely without persimmon.
… In a large city it takes a concerted search to turn up a dish that will be palatable to an old person. Not long ago a newspaper reporter came to interview me on the subject of unusual foods, and I described to him the persimmon-leaf sushi made by the people who live deep in the mountains of Yoshino - and which I shall take the opportunity to introduce to you here. To every ten parts of rice one part of sakĂ© is added just when the water comes to a boil. When the rice is done it should be cooled thoroughly, after which salt is applied to the hands and the rice molded into bitsize pieces. At this stage the hands must be absolutely free of moisture, the secret being that only salt should touch the rice. Thin slices of lightly salted salmon are places on the rice, and each piece is wraped in a persimmon leaf, the surface of the leaf facing inward. Both the persimmon leaves and the salmon should be wiped with a dry cloth to remonve and moisture. Then in a rice tub or sushi box, the interior of which is perfectly dry, the pieces are packed standing on end so that no space remains between them, and the lid is put in place and weighted wih a heavy stone, as in making pickles. Prepared in the evening, the sushi should be ready to eat the next morning. Though the taste is best on the first day, it remains edible for two of three days. A slight bit of vinegar is sprinkled over each piece with a sprig of bitter nettle just before eating… Shortly hereafter Tanizaki launches into a bitching session directed at urban planners and I start to space out and think about making a bento box with Autumn leaves.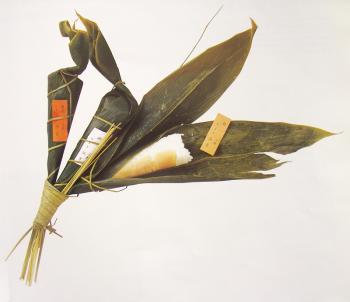 Photograph of a photograph from Ekiben, the Art of the Japanese Box Lunch by Junichi Kamekura, Gideon Bosker, Mamoru Watanabe and with photographs by Masaru Mera used entirely without permission
For authenticity's sake:
I think Tanazaki is describing pickled persimmon leaves, made the summer before. Why otherwise would it be necessary to wipe of moisture and also, unpickled leaves as thick as persimmon leaves are likely to tear. I'm going to try both pickled and unpickled chestnut leaves. I'll ask my Dad if I pickle some of his persimmon leaves, if they're still on the tree.
Also, I believe that Tanazaki is referring to raw salmon (or mackerel) in this recipe. I'm going to try the recipe with both smoked and raw. In the Netherlands, smoked mackerel is called steamed mackerel for some reason that I cannot understand. Must remember to add this to the lengthy list of things that I don't understand after living in this country for more than half my life.
debra at 12:31 | | post to del.icio.us
No Comments »