Tomato marmalade
à la Tal who is
back in the Old Country
June 19, 2007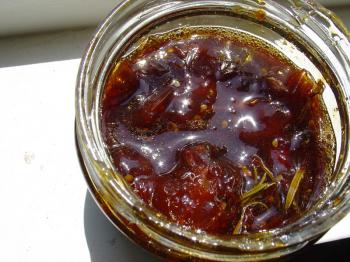 Tal taught me how to make this most delicious tomato marmalade. Actually, when Tal makes it, it's tomato jam. When I make it, it's tomato marmalade. He uses bay laurel, I was about to and then decided on rosemary. Tal's jam is wetter, better to serve with a chopped liver paté that will blow your mind out of your skull. Mine is stickier, better to eat with… a spoon.
I'm happy that Tal is back with his family in the Old Country, about to start a new life, but my life's feeling one rebbe short and it hurts to think it might be awhile before I can give his boney ass a hug.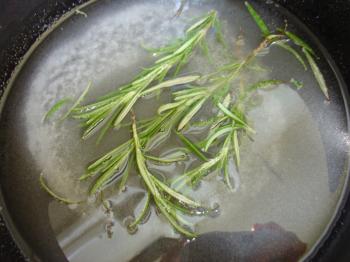 Get cookin', eventually it will all clear up.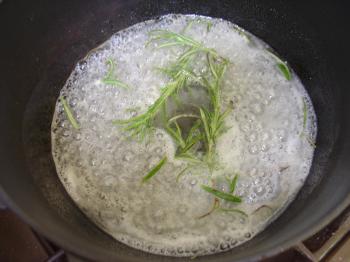 Rosemary syrup, you could stop now if you wanted to.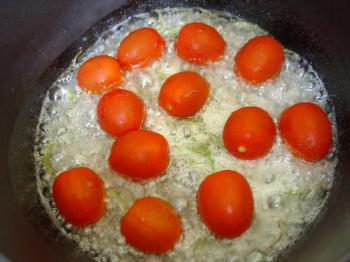 When it comes to tomatoes, Tal's my spiritual leader. He says to use sour ones. I'm wondering about green ones. No stirring from here on out.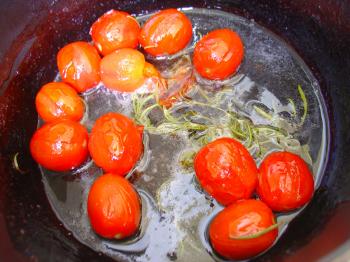 Leave the skins on, the obstacles in this marmalade feel really nice in your mouth, pleasantly chewy.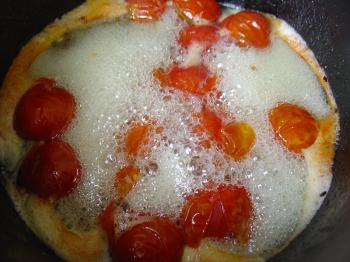 The syrup slowly becomes clear as the tomatoes sweat tart juices.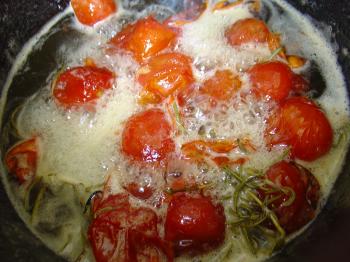 Cook slowly and lid-free. Don't forget to forget it.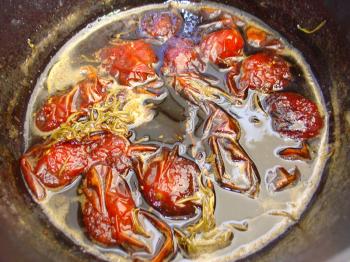 And just before it turns to caramel, I veer from Tal's instructions and give it a goodly splashin' of sherry vinegar and a few sprinklings of sea salt.
Mazal tov, Talele, and I'm thinking of you.
debra at 20:56 | | post to del.icio.us
8 Comments »