Rural design conference scheduled for September 2006
January 21, 2006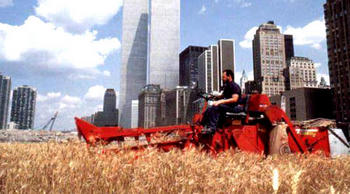 (above: Wheatfield, a large public work by Agnes Denes, image copyright Agnes Denes)
Chapeau to John Thackara at the Doors of Perception blog who reports today about a rural design conference scheduled to take place September 4-7 2006 (somewhere) in the UK. Just have a look at what's being developed for the programme! I am pleased to see that it is all about establishing and strengthening real connections between (urban) cultural producers and rural agriculture producers to the benefit of both.
In a conference forerunner in July of 2005, this is what they were talking about: farmers as curators - an international Rural Biennale for 2007, sustainable farm diversification, rural tourism, food marketing initiatives and staging the Rural Biennale as an integral part of a European Region of Rural Cultures and Farmer Creativity celebration.
To the list of interesting subjects already discussed and in the planning for September 2006, I would like to add: 'rural farmer to urban farmer advisory partnerships for urban gardening/farming initiatives'. I can't help but wonder if the experience and knowledge of the rural farmer can help urban farming inititives such as this wonderful urban farming project in East L.A from being under threat of closure due to urban land-use issues. Injecting (cultural) life into family farms suffering brunt of (European) Agricultural Policy might be just the ticket for rejuvenating a way of life under threat of extinction. Might not the urban farmer benefit from being part of this discussion and network?
technorati tags: rural design, food security, sustainability, farming, food-related art, food-related design, food-related film, Raymond Depardon, agricultural diversification, agricultural policy, urban gardening
debra at 11:47 | | post to del.icio.us
1 Comment »
Hello:
I researched about rural architecture in Iran and I want send papers for your conference.please help me

Comment by parisa — April 13, 2006 @ 8:32