Let the future begin, kimchi air conditioner is here
February 15, 2006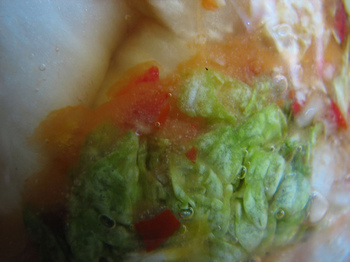 Romantic kimchi photo courtesy of "Do the Bart" Charlotte Yong San Gullach
Kimchi is pickled cabbage (or radish or mustard leaf or…) and I feel quite comfortable in reporting that it is one of the top five most delicious things you can put in your mouth. It is Gawd's own comfort food, made with generous amounts of fresh garlic, ginger and red peppers, it is crazy healthy. So healthy, that an entire nation and a large population of several other nations believe that kimchi can prevent illness. I belong to one of those nations. Kimchi Nation. Kimchi also has a farty smell, but regular culiblog readers know that I just live for that.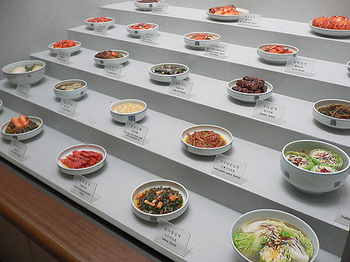 Museum of Kimchi photo courtesy of NihaoGirl
And if all that weren't reason enough to get a leg up on the kimchi altar, apparently kimchi can also kill the avian flu virus H5N1 and is soon to be used in the manufacture of air conditioners. No Fred, not hair conditioners, AIR conditioners.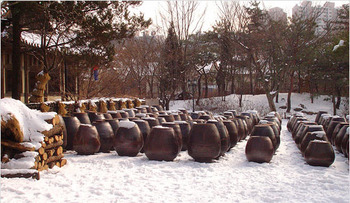 Snowy vats of kimchi fermenting in the park courtesy of Polish Sausage Queen
Today Reuters reported that: South Korean firm LG Electronics is poised to start marketing an air conditioner with a filter made using an enzyme from the pungent national dish kimchi that is aimed at protecting against the bird flu virus. "We developed the filter with the aim of protecting people against bird flu," LG spokeswoman Park Se-won said by telephone, citing four studies from domestic and overseas institutions that she said showed the filter eliminated the deadly H5N1 virus.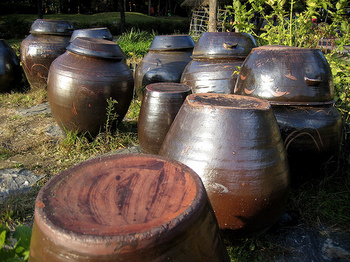 Kimchi pots in the public space by Bryan Hughes
Unfortunately the air conditioners will use only the enzyme from the kimchi and will not transmit its smell. This is a mistake waiting to happen and I would like to urge you to get on the horn immédiatement to let LG Electronics know how wrong that would be.
Thank you Willem for this culi tip. You know I love the kimchi.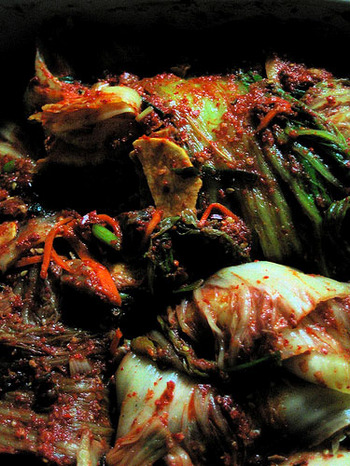 Glamour shot of kimchi courtesy of a person with wonderful photographic skills and whose name I cannot read because it is written in Korean
A list of links to images and air condioner manufacturers for Kimchi researchers and cultural activists.
technorati tags: kimchi, avianflu, South Korea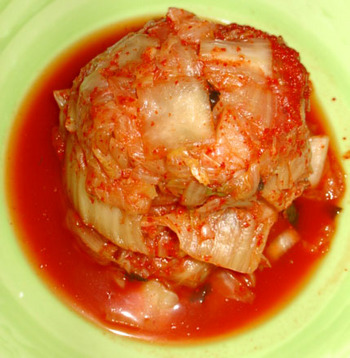 Kimchi, the comfort food of the gawds courtesy of culiblog
debra at 23:58 | | post to del.icio.us
10 Comments »