Today's fig-related transactions
September 1, 2005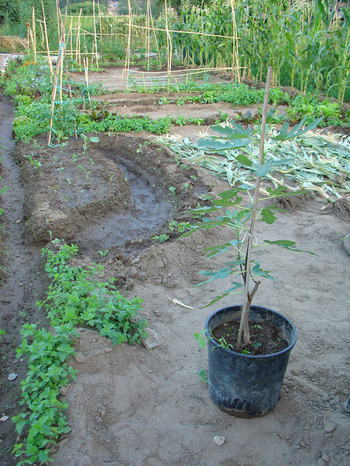 Went to bum a cigarette from my kitchen garden neighbour AlGouche,
and was invited to sit around eating figs and play with Abel's toes for awhile (Abel is 3 months old, so it's OK).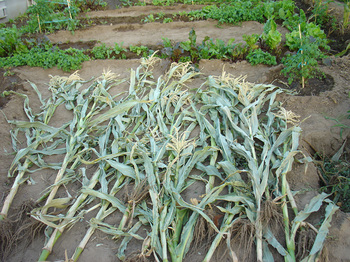 Received a fig tree as a present from Abel's parents, Amad & Lila,
and gave them some leafy greens.
Gave some tomatoes to neighbour Patrick across the stone wall,
and was given a huge jar of fig preserves that utterly rocked my world.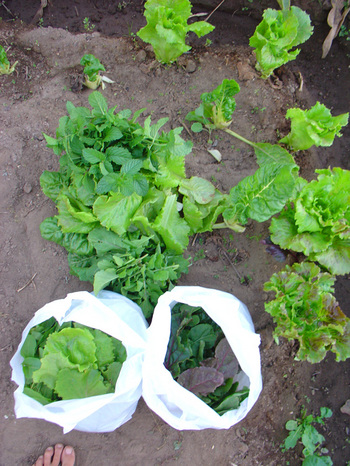 Inquired whether Patrick would like an assortment of leafy greens from my kitchen garden,
and received an apple on top of the wall, which I think was an 'exchange-a-thon' joke.
It's not really apple season yet.
Gave Patrick an assortment of leafy greens.
Gave Mme Afkir an assortment of leafy greens.
Have decided that tomorrow while watering the Family Afkir's kitchen garden, I will eat some of their figs when no one is watching.
images t to b: the gifted fig tree (black figs of yet unkonwn variety), corn stalks drying and all my leafy greens thriving, divvying up the leafy greens for those that want them:
debra at 0:23 | | post to del.icio.us
1 Comment »
ohjoyjoy wat een mooie droge tuin!

Comment by kristi — September 7, 2005 @ 21:57