Lab meating Friday
food, art & science
snacks & symposium
June 28, 2007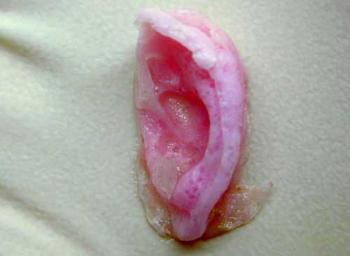 Listen up, why am I pink? Tissue Culture and Art's Extra Ear 1/4 Scale, used entirely without permission
As part of the exhibition Genesis, The Art & Genomics Centre at the University of Leiden, in sweet collaboration with the Centraal Museum in Utrecht have organised a symposium on the subject of food, art and science. It's going to be an exciting event with all that lab meat, ethics, art and highly controversial snacking. A more thrilling Friday evening is hard to imagine.
Marlein Overakker and Inez de Jong from Wandering Banquets are in charge of the evening's alimentary entertainment. Chefs cum pioneering food designers, they know their way around the kitchen and have designed a menu of snacks that correspond seamlessly to the speakers. I'm last after all of those smart people, wondering if that makes me the icing on the cake…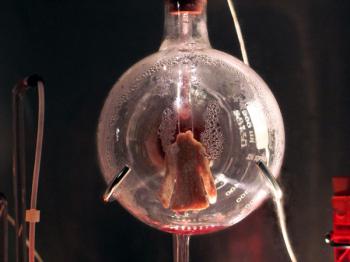 Victimless Leather Jacket, by Tissue Culture and Art, used entirely without permission
In preparation of my presentation in Dutch
(Smart + Dutch + Slanguage = Eeeeks!!!!)
I have been having the hardest time finding worthy Dutch translations for the following English words. Please feel free to help me out in the comments. The list reads like a poem, don't you think?
whole foods = ?
plant based diet = ? (It's not plantaardig…)
environmental impact = ?
resource intensive = ?
livestock population = veetelt populatie?
food technology = voedsel technologie
food scientist = voedsel wetenschapper
disconnected = vervreemd
nutrient = nutriënt?
nutrition = ?
nutritionism = ?
processed food = ?
encountered = ?
entitlement = ?
And not necessarily in that order.
Here's the lineup:
19:00 - Opening
19:20 - 1st controversial snack
19:30 - Prof. Henk Haagsman, Meat Scientist, University of Utrecht
19:50 - Prof. Michiel Korthals, Ethicus, University of Wageningen
20:10 - short pause for thought and 2nd controversial snack
20:30 - Dr. Cor van der Weele, Ethicus, University of Wageningen
20.50 - 3rd controversial snack
21:00 - Debra Solomon, artist/designer/culiblog.org
21:20 - 4th controversial snack
21:30 Panel discussion thankfully w/moderator Annemiek Nelis: Prof. Henk Haagsman, Prof. Michiel Korthals, Dr. Cor van der Weele, Debra Solomon
Useful links:
debra at 12:03 | Comments (12) | post to del.icio.us
Exhibition the Edible City
at the NAi-M closes
June 27, 2007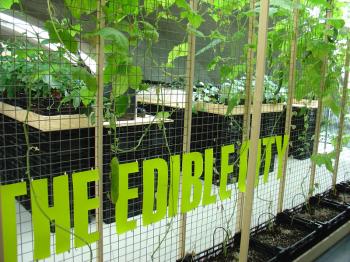 The Edible City exhibition at the NAi-M (the Netherlands Architecture Institute) has finally come to a close. Showing more than 40 architectural, design and urban planning projects, the exhibition was about food systems and the urban environment. There was a time when city-dwellers could more or less provide for their own alimentary requirements aka food sovereignty. But since the Industrial Revolution, the chain of food from field to fork has greatly increased in length and has even evolved into a lace-like structure. If you missed this iteration of the exhibition, chances are you will have an opportunity in the near future to have a look, see and do.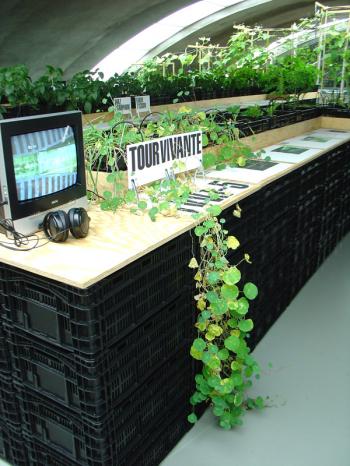 To celebrate a job well done and some much anticipated spin-off, NAi-M director Guus Beumer and NAI-M staff generously hosted a delicious luncheon, amidst the burgeoning exhibition growth, inspired by the foodstuffs grown in the exhibition itself and prepared by local restaurant de Bisjop. My co-curators, co-designers and co-sustainable landscape design colleagues were there, as were a goodly number of the exhibition's participants and of course illustrious and engaged guests from the region and the exhibition's sponsors. And quite a handful of folks that had travelled from far, far, far away.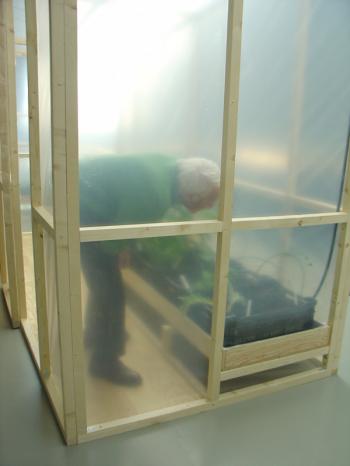 Havest Luncheon speakers included: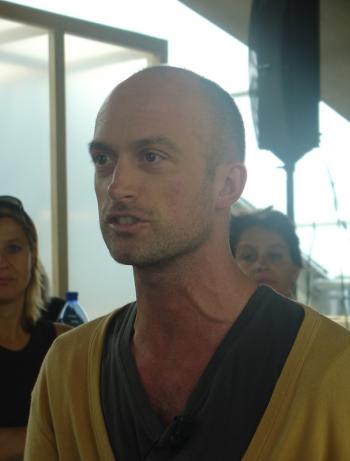 Sir Fritz Haeg of Edible Estates
Afternoon luxuriously turned into drinks and drinks turned into evening drinking which turned into eating (the most amazing Chinese food I've ever put in my mouth - You go Maastricht!) and later we tacked on a bit of drinking for good measure. It was one of those perfect 16 hour days borne out of the knowledge that at any moment, during drinks, during the flattering discussion, during the shootin' of the shit about urban agriculture and the designed environment and the need for discrete design commissions, during the deep kissing, that an urgency may suddenly arise to extract a pen from a tangled curl and start collaborating. Oh, the glamour…
The Edible City exhibition was based on an idea by Guus Beumer and is curated by moi-même, Debra Solomon (culiblog.org), Anneke Moors and Hans Ibelings. The exhibition design is by Event Architecture, in collaboration with Hans Engelbrecht and Margriet Visser (de Groene Stap) and the graphic design is by Experimental Jetset. Beautiful! BTW: the poster that the Experimentals made for the exhibition along with the poster of the Jean Prouvé exhibition now running at the NAi-M has been taken up in the collection of the MoMA. Proficiaat Dame en Heren!
The Edible City presents a diverse range of proposals and strategies to produce food in or near the city and that offer the opportunity to experience the city in a different way. As befits the subject, much of the exhibition was itself edible. As of today, it will all be edible somewhere else.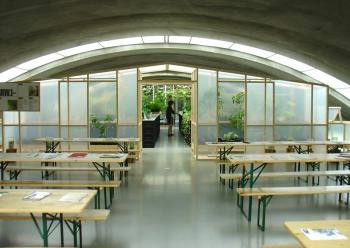 Here are links to some of the project texts.
- Farmers' Markets: Nina Planck, London Farmers Markets, Carolina Verhoeven (also, thanks to Brouwer Betist en Sawadee)
- Drinking water fountain - Jan Konings
- EcoSphere - Happy Shrimp Farm
- EVA-Lanxmeer - Foundation EVA (Marleen Kaptein) and House of Concepts (Jorn Mols)
- Exploded London, Egg diagram, LeisurESCAPE and images of Cuban organoponicos - Bohn & Viljoen Architects
- Farmtycoon - FABRICations (Eric Frijters), WUR-Alterra, InnovatieNetwerk
- Infra Ecology - Duzan Doepel, Jago van Bergen, Willemijn Lofvers
- Maastricht, Tolbert, Rotterdam - o.m. Foundation Oudheidkamer Fredewalda Tolbert (Bralt Hovinga)
- Middlehaven Docks - SMC Alsop Architects
- Parc Unimétal Caen - Agence Dominique Perrault
- Tour vivante - Atelier SOA Architectes
- Food chain city / Voedselketenstad - 2012 Architecten, Het Portaal, Innovation Netwerk
- Wujin WAZ Holland Park - WUR/Alterra (Peter Smeets, Rik Olde Loohuis)
- Sand bag garden / Zandzakkentuin - Studio Jurgen Bey
- Seven street pieces for Almere / Zeven Straatstukken voor Almere - De Pavi
Interview about the Edible City by Règine Debatty in World Changing Part 1 and Part 2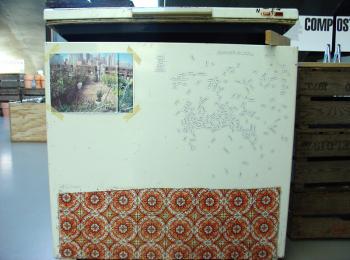 A poetic worm composter with big plans…
debra at 15:09 | Comments (0) | post to del.icio.us
Tomato marmalade
à la Tal who is
back in the Old Country
June 19, 2007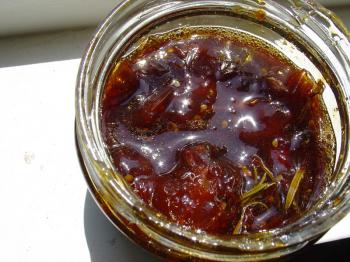 Tal taught me how to make this most delicious tomato marmalade. Actually, when Tal makes it, it's tomato jam. When I make it, it's tomato marmalade. He uses bay laurel, I was about to and then decided on rosemary. Tal's jam is wetter, better to serve with a chopped liver paté that will blow your mind out of your skull. Mine is stickier, better to eat with… a spoon.
I'm happy that Tal is back with his family in the Old Country, about to start a new life, but my life's feeling one rebbe short and it hurts to think it might be awhile before I can give his boney ass a hug.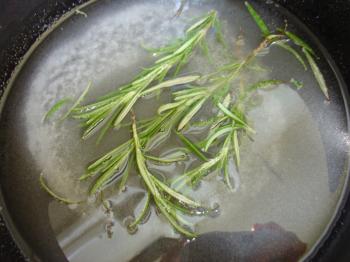 Get cookin', eventually it will all clear up.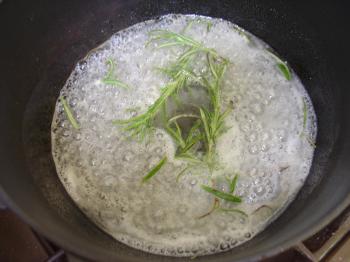 Rosemary syrup, you could stop now if you wanted to.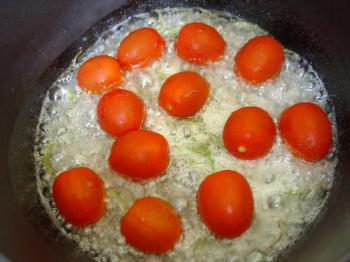 When it comes to tomatoes, Tal's my spiritual leader. He says to use sour ones. I'm wondering about green ones. No stirring from here on out.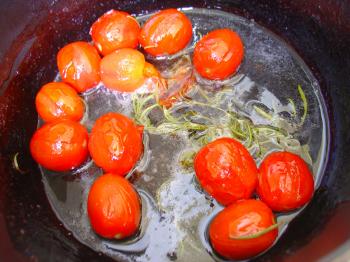 Leave the skins on, the obstacles in this marmalade feel really nice in your mouth, pleasantly chewy.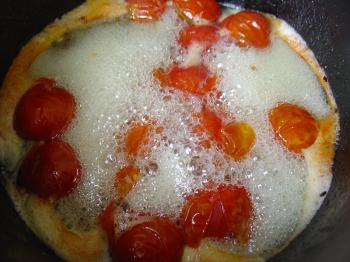 The syrup slowly becomes clear as the tomatoes sweat tart juices.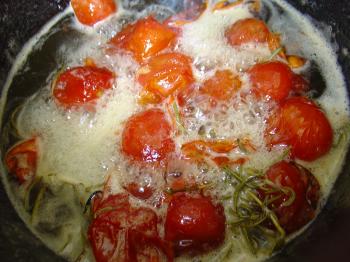 Cook slowly and lid-free. Don't forget to forget it.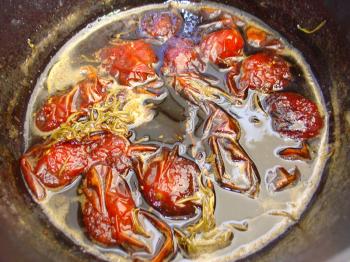 And just before it turns to caramel, I veer from Tal's instructions and give it a goodly splashin' of sherry vinegar and a few sprinklings of sea salt.
Mazal tov, Talele, and I'm thinking of you.
debra at 20:56 | Comments (8) | post to del.icio.us