Alignment at last
Shana Tova and Ramadan Mubarek
September 3, 2007
May this be a year of double happiness. At sundown last night began both the month of Islamic month of Ramadan and the Jewish New Year. Holidays can do nothing other than coincide from time to time when you're both sporting lunar calendars. This will be the last time for awhile as Ramadan comes earlier each year. Ramadan is a month of reflection in which daytime restriction induces deep personal reflection. Daylight restraint is celebrated en group when families and entire communities come together each evening to break the fast, the Iftar meal. Fasting ultimately leads to feasting.
Rosh Hashana, although the Jewish New Year, is not a balls out affair, compared to other folks' New Year celebrations it's downright demure. Possible cause is that Rosh Hashana kicks off the period calls the Days of Awe, the 10 day period before the chaotic and humanistic day of atonement, Yom Kippur. For Jews this is a period of temperance and reflection in which one is obliged to a.o.t. forgive others, ask forgiveness for one's own wrongdoings and hopefully to be forgiven.
http://www.when-is.com/rosh-hashanah-2007.asp
http://www.ramadanfestival.nl/
http://www.when-is.com/ramadan-2007.asp
http://www.honeylocator.com/
debra at 3:59 | Comments (0) | post to del.icio.us
The Knödelist
September 1, 2007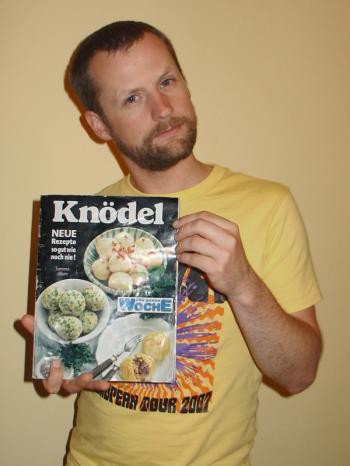 Son of a bakerman, keeping up the family tradition
I am blessed with a goodly many friends who, feeling my temporary loss of Heim, have been inviting me over to dinner nearly every night of the week. Dear Friends, please pace yourselves but keep up the good work and continue to rock the kitchen. Only 3-4 months to go! Or 5!
The Friends are under the accurate impression that if they don't feed me at cheery dinner parties larded with charming guests and delicious homestyle cuisine, I'll spend depressing evenings in my lonesome slumped on the couch like a glue-sniffer, a wet spring onion in one hand, slurping silken tofu right out of the baggie. This entrée will be followed with store-bought kim-chi in a jar and a bottle of cultured buttermilk clenched between my ankles. No table, ceramics or cutlery will be involved in the feeding. Glamourous!
It's true, I'm having some trubs adapting to the temporary micro-digs and life without a dishwasher. Upside is, the Friends, once fearful of cooking for me (I shall never understand this) are now bustin'-out the fancy moves. I'm thrilled with the exotic harvest.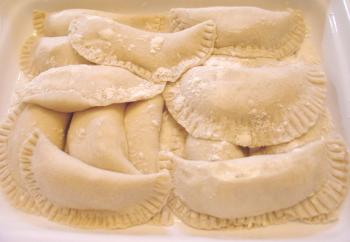 Kasknudel, don't you just want to snuggle on up?
Son of a baker and home-smoked-trout maker, Knödel adept Heimo has been spending quite some attention on mastering his father's recipes. Young Grasshopper excels, sometimes self-admittedly exceeding the Master in his lofty greatness!
Debunking the myth that healthy friendships can't be made at yoga class, Heimo, upon hearing of my compromised domestic situation, invited me to a Knödel-rich evening and sparkly conversation with girlfriend Moko and friends Vivian and Taku. Heimo expertly produced 3 delicious and nuanced courses of Knödel, and next time he's going to attempt a 4th, a dessert Knödel. What's the big? Like many traditional foods originally intended to use up leftovers and pieces of stale bread, these dumplings are labour intensive to make and serve.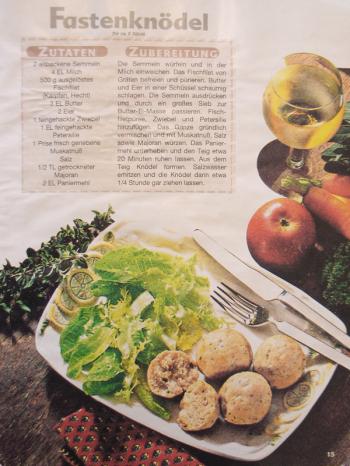 Fast as in fasting, as in counter-reformation, ritualised proto-vegetarian Lenten cuisine, a carefully pasted page from the family's Knödel cookbook.
Knödel is a portmanteau for all dumpling typologies, both savoury and sweet. The term in no way communicates the diverse manifestations which resemble everything from wontons, to ravioli, to bapao, to bitterballs and even to matzah balls. Knödel belong to the Austro-Bavarian-Czech cuisine famous for embracing not-so-complex carbohydrates and a limited colour palet. But there's an inside and an outside to these balls and their success rests in differentiation. When it comes to the texture and flavour of Knödel, Heimo is unblinded by the beiges and has got his hetero all over his homo. B-ravo.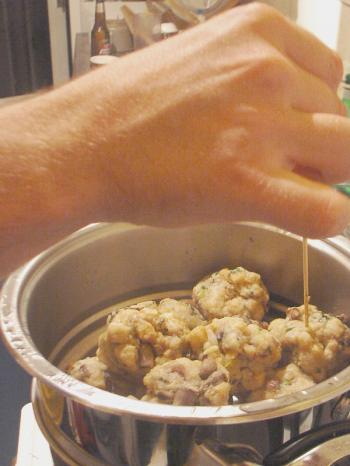 Mushroom semmel Knödel, precision testing is next to gawdliness
debra at 13:28 | Comments (1) | post to del.icio.us