La Peche qui brule
November 16, 2004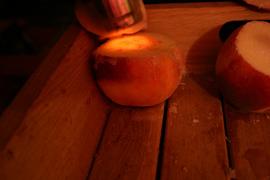 That was the title of the smoldering peach course on that eventually sultry August evening. We placed the carmelised peaches on the pôts de creme au chocolate brulée. You can't eat one without eating the other.
And that's exactly what a French speaker would say, 'You can't heat one without heating the other.'
As with the previous slideshow, these photos are courtesy of Kristine Malden.
debra at 17:59 | | post to del.icio.us
2 Comments »
I can't believe no one thought that little French joke was funny. hmph.

O!, it was funny, for me ;D
also the french speaker would say serving it to the loving audience - I have for you something from my art ;D

Comment by michaĹ' — October 9, 2008 @ 11:13