Second to last walk of the year
December 29, 2005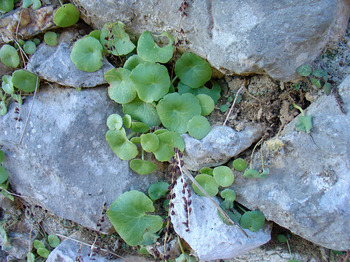 *Without a prayer of an internet connection in sight, I have been enjoying my friends, the garden and the splendid but freezing environs. Today's hike up the mountain led us past miner's lettuce growing in the maze of thick stone walls. And while talking of lettuces and of mines, there was gunshot all around us. It's hunting season, and I had left my orange cap at home.
The walk turned into a real adventure when, by chance, we met a bear of a mountain man, in his other life, an oceanographer. Our new acquaintance generously asked us in for some mountain style coffee on his homemade terrace which had irises **somehow hardy enough to bloom. Our new aquaintence has a two hundred degree view of both valleys, and is set up to maximise every minute of sunshine. He told us, that usually when the weather gets like this, (three weeks a year) he simply goes into hibernation, eating dinner at 15h and going to bed by 17h! An interesting man though, and we are pleased to have finally met an inhabitant of this mountain.
* - Merci, Wanadoo et France Neuf, both of whom treat their Mac customers very poorly.
** - My hopes of turning the soil before returning to the Pays Bas have been dashed by the cold.
debra at 13:28 | | post to del.icio.us
1 Comment »