Dark side of the moon soup
February 14, 2007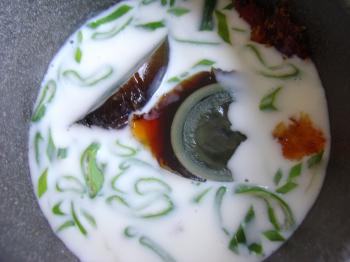 1000 year old egg, in a puddle of kefir and onions
I'm in love, in-loved and love my beloved as much as the next gal, but I couldn't give a rat's ass about Valentine's Day. (Schatje doesn't read my blog, thank gawd!)
February is the month where the novelty and exoticism of winter's dreary darkness has completely worn off for me. Born in the Mojave Desert and based in the Polar Circle, it is sometimes possible to be lured by others into thinking that the utter lack of warmth and light is in some way charming. Come February I've pretty much had it and have started cursing the fact that I didn't follow each new year's resolution to get the hell out of Dodge for the winter months. A nippy winter night in Occitania you can wax romantic about, but up here, the incessant greyness sans etoiles of cloud cover like a woolen blanket wrapped around your head and temperatures hovering around 8-12°C, it's so neither here nor there.
On the bright side, the 1000 year eggs are back. They were banned for a few months to further whip up fear about the bird flu. But these jeweled beauties will be part of my Valentine Dinner which I will simply refer to as 'dinner' and which I will colour coordinate with the night sky…
debra at 0:00 | Comments (1) | post to del.icio.us
Wild Fermentation
February 12, 2007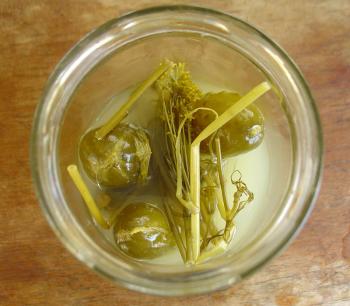 My friend Anita Lozinska made these pickles last summer in Poland, where they know a thing or two about pickle making. These are perfect pickles.
A few weeks ago, a friend asked me if I believed in the theory that we should eat foods according to our blood and body types, according to our ethnicity. I laughed it off and changed the subject, trying to avoid one of those discussions where ethnicity and culture get all jumbled up and folks start saying the strangest things that set my ears on fire.
But on my bike ride home, buffeted by the cold and the rain, I could think of only one thing: a comforting bowl of sauerkraut and an ice cold glass of high fat kefir. In the cold and dreary 7, I mean 8 months of the year that is winter in the Polar Circle, I rode out of my way, in to the wind, to get some fermented food. Unpacking my bags at home, I had the most romantic soft focus vision of sinking into a massive pillow, bowl of sauerkraut in one hand and a glass of kefir at my side. Turns out that I had left the bag of sauerkraut at the checkout and I nearly broke into tears.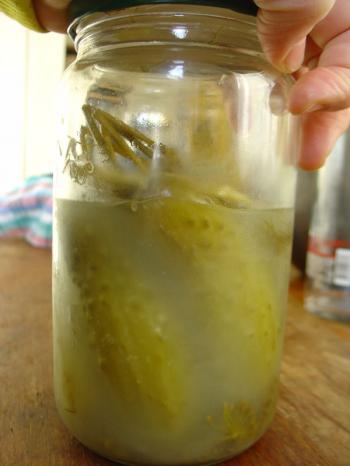 Yes, I drink pickle brine. Got a problem with that? In some cultures they use it as a base for soups.
For some people that would have been a chocolate moment, but for me that was a fermented food moment. Gawd how I love the fermented food.
And what made the moment all the more tragic was that Wild Fermentation, by Sandor Ellix Katz had just arrived in the post, and reading this book on the couch with the sauerkraut and the kefir was part of a snuggly feel-good scenario in which I was going to be the star. Pity the check out space out had to ruin it all. But the glass half full in me told me that this was a lesson: start fermenting my own (dang) food (oops).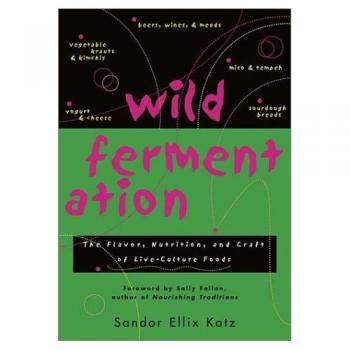 If you like fermented foods, you will love this book.
I'll write more about Katz' book in the next days, but here are some images of some of the pickling I've been doing.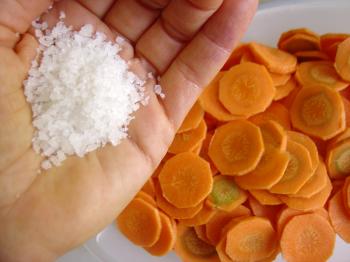 Raw root vegetables and certain cruciferous vegetables are simply better tasting when they've been fermented. I would never have eaten this many raw carrots if they hadn't been pickled and peppered first.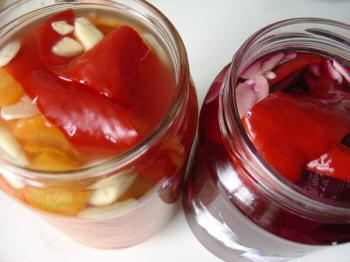 Pickled carrots and beets, ready for the fridge
Same with the beets. Raw I said.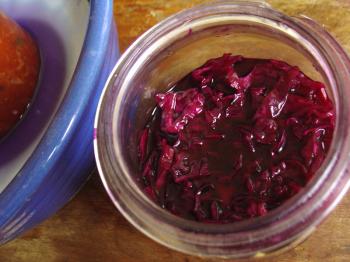 Red cabbage sauerkraut next to a new batch weighed down with a jar of homemade kimchi
Why red cabbage sauerkraut isn't sold and eaten all over the world, I shall never know. In the past weeks I am responsible for the consumption of 3 heads of cabbage. I would never EVER have eaten that much red cabbage raw. Sometimes I feel cheated by the pinched Calvinism of the raw food movement.
debra at 20:28 | Comments (6) | post to del.icio.us
Is this Foodology?
Now if I can just decide which 'ology' to go to tonight dot dot dot. Here's the press release of Toyoko Shimada's Foodology exhibition that opens tonight at Platform 21. My other 'ology' doesn't have a press release:
What do a Chinese dress decorated with macaroni, a linked necklace of peanuts, and a Chinese blouse covered in flattened cola cans have in common? And what can they tell us about the people who wear them and the cultures they live in? Are you really what you wear and eat?
From 14 February through 4 March, Platform 21 presents Foodology. In this show, the Japanese artist Toyoko Shimada unites arts and crafts and 'high' and 'low' art in a look at dress codes and eating habits.
Shimada creates surprising garments, multimedia projections and new rituals around food. These works are based on her investigations into what art, fashion and food can tell us about individual and national identity in our globalised, high-tech age. Shimada always makes her works in collaboration with others and often accompanies them with a short presentation or fashion show.
FOODOLOGY by TOYOKO SHIMADA
14 February – 4 March 2007
Opening Wednesday 14 February, 19:00
Closing party Saturday 3 March , 17:00 – 20:00
Exhibition open Wednesday through Sunday,
12:00 – 18:00
debra at 15:01 | Comments (0) | post to del.icio.us