Grow yer own dang food
(part 1)
January 30, 2006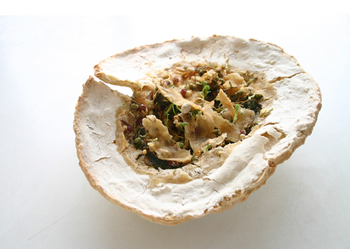 Image of sprouting bread courtesy of Cygalle Shapiro
Back in the eighties, as a student at the University California at Santa Cruz, I lived in a vegetarian commune with a bunch of hippies. As hippies, we produced our own sprouts, yoghurt and salsa fresca for the entire commune, approximately thirty people. I had all but forgotten this part of my life until recently, when my Food Atelier students at the Design Academy Eindhoven started working on ways to grow their own food. The work of two enthusiastic students got my wings flapping enough for me to dare revisit my past. These are the images from the first trials, theirs and mine.
After initial attempts at growing mung sprouts in bread (see above), Cygalle Shapiro is successfully growing a ready-made 'salad on salad'.


Images courtesy Cygalle Shapiro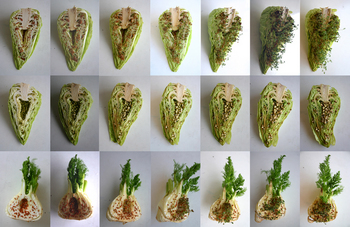 images top to bottom: sprouts in bread, salad on salad, sprouting experiments courtesy of Cygalle Shapiro, copyright Cygalle Shapiro 2005 - 2006. Contact culiblog for further information.
Liora Rosin is growing sprouts in labneh, a fresh yoghurt cheese, commonly made at home. For Rosin it is important that the seeds are grown within the labneh in order to transmit the flavour of the sprouted seed into the delicately tangy cheese.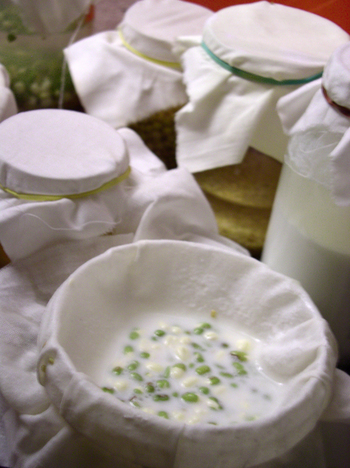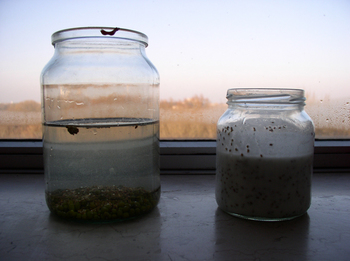 images top to bottom: home sprouting installation, soaking, lactic fermentation sill; courtesy of Liora Rosin, copyright Liora Rosin 2005 - 2006
Wouldn't the world be a better place if we all had a designated windowsill for lactic fermentation?
Having resolved to practice what I preach in 2006, I am also working on growing sprouts on labneh and find that the experiments coördinate nicely with my developing a good recipe for yoghurt ravioli.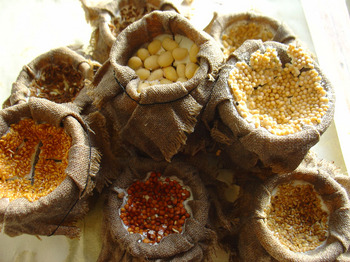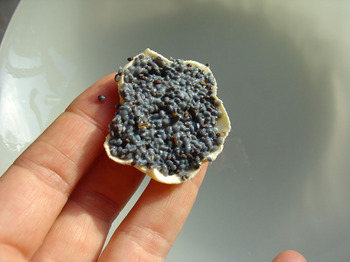 This is a cute disaster of basil seeds rotting into overly dry labneh. Seeds that become gelatinous when they are moistened (e.g., basil, buckwheat, watercress) are poor candidates for immediate immersion on or in the yoghurt medium.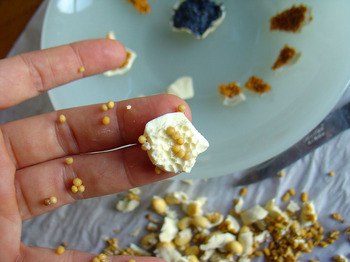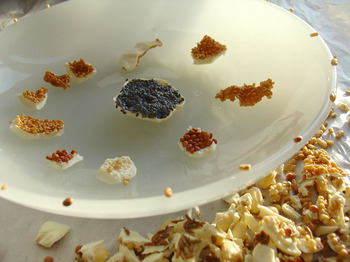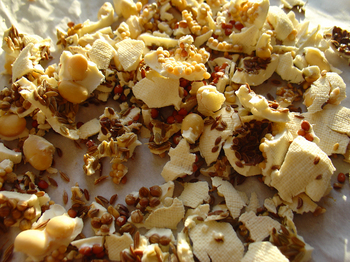 images top to bottom: sprout collection 2x, basil on labneh, playing with mistakes, pretending sampler, curd seed brittle; Debra Solomon
The results of an unsuccessful attempt at growing woody spice seeds (dill, coriander, cumin, kummel) in yoghurt medium with the intention of flavouring the labneh were not especially delicious, although visually exciting. The linen and the seeds texture the labneh beautifully and I look forward to spin a few successful recipes from these experiments soon.
Here are other urban gardening solutions, mostly rooftop gardening related:
technorati tags: rooftop gardening, urban gardening, food security, sustainability, farming, food-related design, agricultural diversification
debra at 11:52 | Comments (10) | post to del.icio.us
Rural design conference scheduled for September 2006
January 21, 2006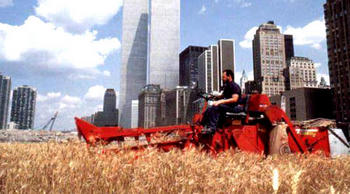 (above: Wheatfield, a large public work by Agnes Denes, image copyright Agnes Denes)
Chapeau to John Thackara at the Doors of Perception blog who reports today about a rural design conference scheduled to take place September 4-7 2006 (somewhere) in the UK. Just have a look at what's being developed for the programme! I am pleased to see that it is all about establishing and strengthening real connections between (urban) cultural producers and rural agriculture producers to the benefit of both.
In a conference forerunner in July of 2005, this is what they were talking about: farmers as curators - an international Rural Biennale for 2007, sustainable farm diversification, rural tourism, food marketing initiatives and staging the Rural Biennale as an integral part of a European Region of Rural Cultures and Farmer Creativity celebration.
To the list of interesting subjects already discussed and in the planning for September 2006, I would like to add: 'rural farmer to urban farmer advisory partnerships for urban gardening/farming initiatives'. I can't help but wonder if the experience and knowledge of the rural farmer can help urban farming inititives such as this wonderful urban farming project in East L.A from being under threat of closure due to urban land-use issues. Injecting (cultural) life into family farms suffering brunt of (European) Agricultural Policy might be just the ticket for rejuvenating a way of life under threat of extinction. Might not the urban farmer benefit from being part of this discussion and network?
technorati tags: rural design, food security, sustainability, farming, food-related art, food-related design, food-related film, Raymond Depardon, agricultural diversification, agricultural policy, urban gardening
debra at 11:47 | Comments (1) | post to del.icio.us
Food-related film at the Rotterdam International Film Festival
January 20, 2006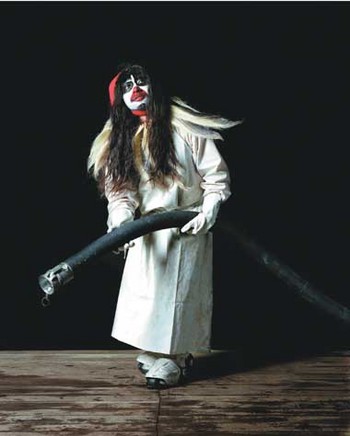 Petrolatum Spirit, film still from Matthew Barney's Drawing Restraint 9, copyright Matthew Barney, used without permission
Pack up your yurt, we're moving to Rotterdam for a little more than a week. January 25 - February 5, 2006 is the Rotterdam International Film Festival. The programming is dazzling, but I've created a short food-related film selection for anyone that believes it's time to move beyond Tampopo. Having not yet seen these films, I am hoping that their content can be interpreted as food-related, in the culiblog sense of the word: food, food culture, food AS culture, and the culture that grows our food.
Tickets are available from Saturday January 21, 2006 at 09.00 hrs until Saturday February 4, 2006 at 21.00 hrs at the Festival Box Office located in 'de Doelen' (entrance Kruisplein), Rotterdam and, by telephone through +31 0(10) 890 9000
The culiblog food-related film selection for the International Film Festival Rotterdam 2006:
Sunday 29.1
10.30h - Kitchen
14.30h - Fish Fall in Love, culiblog review of Ali Rafi'i's When Fish Fall in Love
Monday 30.1
19.00h - Drawing Restraint, culiblog review of Matthew Barney's Drawing Restraint 9
21.45h - Eden
Tuesday 31.1
16.00h - Poulet poulet
17.30h - Mother of the Mother and also the Mother of the Mother's Mother and Her Daughter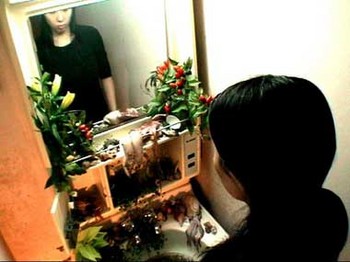 film still from Mother of the Mother and also the Mother of the Mother's Mother and Her Daughter, copyright IFFRotterdam, used without permission
From Wednesday 01.2 until the festival's end, I shall attend as many films as I please regardless of their food-related content. If you're coming, drop me a line so that we can meet up and tuck into some excellent Rotterdam food.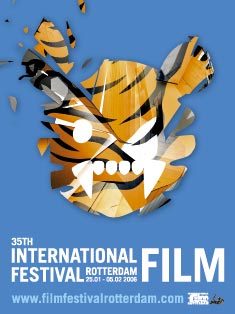 technorati tags: International Film Festival Rotterdam, film, food-related film
debra at 22:40 | Comments (0) | post to del.icio.us