Poppyseed Mustard
October 26, 2004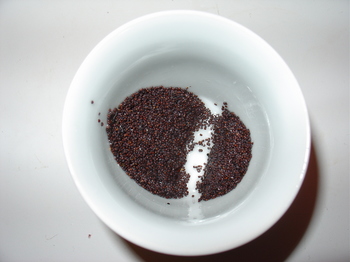 It tastes just like it looks, dark and musty. Even though I mixed this batch with a roasted garlic clove I still think it would taste great with chocolate! Poppyseed 'mustard' makes me long for strudel and as soon as I am done with this juice fast I'll develop a savoury strudel with poppy seeds and mushrooms.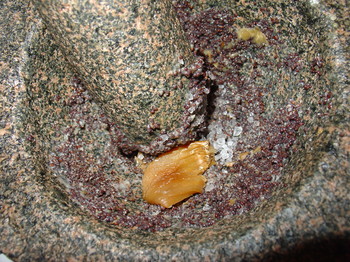 debra at 22:46 | Comments (4) | post to del.icio.us
Autumnal fasting has begun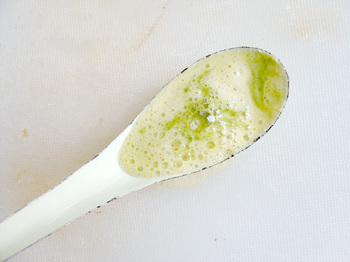 Today I started the Autumnal Fast. I'll be recording my menus and recipes (!) here. If you always thought fasting was a torture read here to see that the opposite is the case. SO far it is the first day and I'm not interested in juicing, very interested in cooking - so I made some cashew cheese and poppyseed mustard.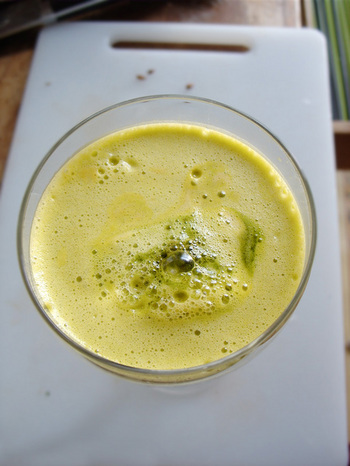 Day 1 (of 6)
- coffee (don't say it…)
- sauerkraut juice (Brother Aaron and I used to fight eachother to drink this.)
- fresh orange juice
- apple mint juice
- miso soup with roasted garlic (see nature's garlic entry)
- mushroom bouillion with roasted garlic (idem ditto)
- pear ginger juice with jogi tea
- sleepytime tea
debra at 21:58 | Comments (1) | post to del.icio.us
Cook 'em with Dirt and All
October 18, 2004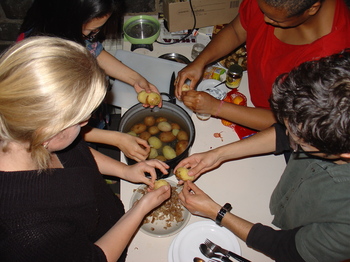 A Norgwegian harpsichordist once taught me an easy way to peel potatoes, a way that preserved precious vitamines. You dump them in a pot, dirt and all and boil them up good. When they're soft enough, you drain them (and the mud) and plunge them into cold water and let them sit a bit. They'll stay hot, don't worry. In the cold water you can easily peel the potatoes with your fingers - the outer skin just falls away. Saves a bunch of time and is a satisfying job in a pick your scab sort of way.
Pictured above are my art students (from the Dutch Art Institute) helping me prepare dinner after a long day's work. Clockwise from 2 o 'clock are students from: Tracey; Jamaica/Canada, Viktor; Bulgaria, Ruth; Germany/Nederland, Ju Hie; South Korea. Not pictured and therfore not peeling are Macha; Kazachstan/Israel, Mu Xe; PRChina, TsuiLun; Taiwan, and Anne; Germany/Nederland.
debra at 10:53 | Comments (0) | post to del.icio.us