A sprouting lesson:
you've already got
what it takes
November 18, 2006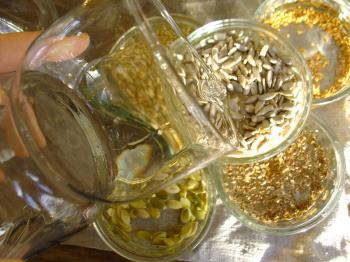 Counter-top sprouting installation chez culiblog
When I remind my guests at the Grow Yer Own Dang Food micro-green cuisine concept restaurant that eating seasonal, local food is one of the most revolutionary actions that you can take against petrol consumption, right fists usually fly straight into the air and throaty cries of Right On, Sister resonnate loud and clear.
But when I explain that even without land, right here in our urban interiors, we can all easily grow fresh, organic vegetables (also in the light-deprived Polar Circle), I am most often confronted with the slack-jawed stare of disbelief. Since the restaurant's opening, I have received copious requests to give a tutorial on sprouting. Thankfully, the servant is the master.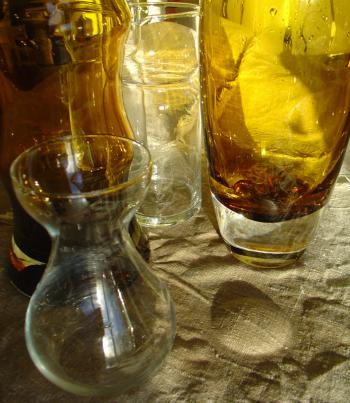 Start by using what you've already got. But wash it.
Equipment: pretty is as pretty does
Although many a sprouting friend swears by her stacked sprouting trays, and others can't imagine indoor farming without their sprout bags, intimi know that culiblog is a proponent of vernacular design and playful ad hocism.
No need to buy product when your cut glass tumblers and jam jars will work just fine. Pretty wide-mouthed vases or recycled yoghurt pots, you can make an ikebana installation with the sprouted vegetation and install it as a centrepiece on your dining table. For as with people, so also with sprouting; the prettier something is, the more likely you are to do it, if you know what I mean. Use beautiful vessels and work with what you've got.
For sprouting mucilagenous seeds (slimey) like mustard, watercress and basil, you don't need to buy, sew or handloom a sprout bag when a cotton tea towel or linen napkin draped over a plate will do. You've already got everything it takes to sprout.
Equipment list:
- something to sprout (seed)
- something to sprout in (vessel)
- something to sprout on (fabric)
- sieve (for decadent rinsing)
Ingredients:
- seeds
- water
Here's the recipe:
seeds + water + time = sprouts
A more detailed version of the same recipe would read:
seeds + water + time + darkness + water + time + water + time + natural light = sprouts
Sprouting lesson in 4 steps:
1. Soak the seeds in water for one night.
2. In the morning, drain off the excess water and rinse the seeds with fresh water, either by swirling them around in the vessel, or by pouring them into a sieve. Return the wet seed to the vessel and place in a dark place.
3.Keep the seeds in the dark for 2-4 days, removing them twice a day for rinsing.
4. After 2-4 days (depending on the amount of growth) you can bring the baby sprouts into the light. I like to switch to a fresh vessel at this point, but that's only because I'm a show-off and use the sprout-filled vessels in flower arrangments.
Every now and again, taste your crop. If you think it's done, you can choose to put the sprouts in the fridge, covered with a damp tea towel.
The only difficult part about sprouting is developing a rhythm of eating and starting a new crop - that's just like gardening. It takes 4-10 days to sprout the sorts of seeds you would likely want to eat as sprouts.
Grow sprouts that you can't easily buy for next to nothing from the farmer's market. At the moment I'm really into sunflower, pumpkin seed and fenugreek sprouts.
debra at 23:47 | Comments (2) | post to del.icio.us
Food-related film at the Shadow Festival
November 17, 2006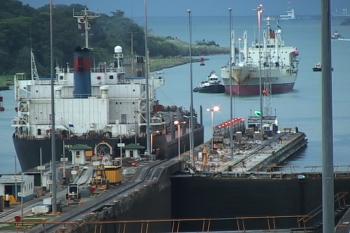 Film still from Allan Sekula's The Lottery of the Sea (2006) for once image used entirely with permission
A quick scan of the seventh edition of Amsterdam's Shadow Film Festival, (November 21-29) and I see the programme is larded with food-related films. Thank gawd for programmers doing this without even noticing, because when they do notice, they tend to programme vile romcoms, the scourge of the genre. But the Shadow Festival, known in my possee as the Thinkin' Gal's Documentary Fest is always above all that and this year they're showing work by one of my favourite artist/filmmakers.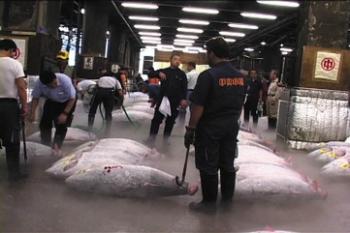 Film still from Allan Sekula's Tsukiji (2001) showing tuna being moved around like bars of gold, used entirely without permission
I'm a big fat fan of Allan Sekula and pretty much anything that he produces about the seas. I remember his 2002 photo installation at the Documenta XI about people working in the fishing industry. There was one particular photograph amongst the hundreds of the ship formerly known as the Exxon Valdez, at the very moment that its name was being overpainted. That ship, that moved around all that oil, that in turn moved around all that food we eat and all that stuff we buy, bleeding out over the ocean's surface, lifeblood upon lifeblood. The photograph was just a portrait of the man whose job it was to paint over 'that name', but it was chilling, gives me gooseflesh everytime I think about it.
In 2001, the Shadow Festival featured an afternoon with Sekula and a screening of his yet to be finished Fish Story, later to be titled, Tsukiji. Now I'm counting the days until I can view a screening of the Lottery of the Sea. For nerds there will even be a special lecture by Sekula the very next day (Monday, November 27) which I unfortunately will not be able to attend because although on sabbatical, I have agreed to teach some youngsters a thing or two. If you're in town and you haven't heard Sekula speak, you will definitely want to do so - he is warm and engaging and he interacts for realisies with his audience.
There are all manner of interesting documentaries being screened at the festival, but here's the culiblog super shortlist of food-related film at the Seventh Edition of the Shadow Festival in Amsterdam:
Easy Riders
Ane Ose (Norway) / 15 min
Melkweg - Thursday, November 23rd at 16:00h
The Lottery of the Sea
Allan Sekula (US) / 179 min
Melkweg - Sunday, November 26th at 19:30h
Lecture by Allan Sekula
"Eleven Premises on Documentary and a Question"
Allan Sekula (USA)
Melkweg - Monday, November 27th at 14:00h
Oliva Oliva
Peter Hoffmann (Germany) / 68 min
Melkweg - Monday, November 27th at 19:30h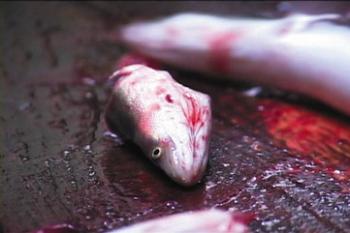 Film still from Allan Sekula's Tsukiji (2001) showing the beheading of eels and the twitching man who does 'all that work', used entirely without permission
debra at 0:31 | Comments (0) | post to del.icio.us
Micro-green restaurant officially open
November 4, 2006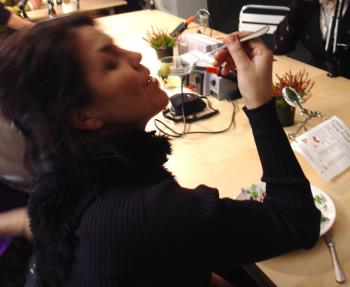 Jeanette likes sprouts because they're seed-related
Roqn-ass opening btw. Merveilleuse! The dear friends showed up, the food was devoured, folks asked for seconds (and got them without a wince) we danced our tocheses off until 4ish and the whole thing ended sloppily with bottles of bubbles (cava goes w/sprouts) being redistributed into all manner of recycled containers. Waste not, want not, love that.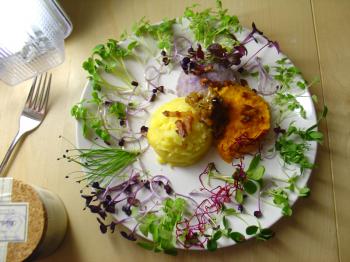 And as for the youth of today (who were all diamonds and came exquisitely dressed) I spent at least 3 minutes dancing with a hand in the air, trying to share a joint, and none of those shiny happy kids even wanted it. Hell yeah, it's HOMEGROWN! What evs.
Must be the New Austerity.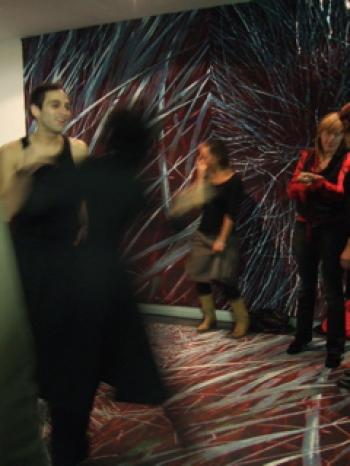 Grow yer own dang food Chef Tallele and Debra, a blur of her former self. Photo Aya van Caspel
To all of our great surprise, the opening event went swimmingly, and if we still like playing with this toy after 2 months time, we may get the urge to share the love. At least that was the sentiment at the end of the evening. Bodes well.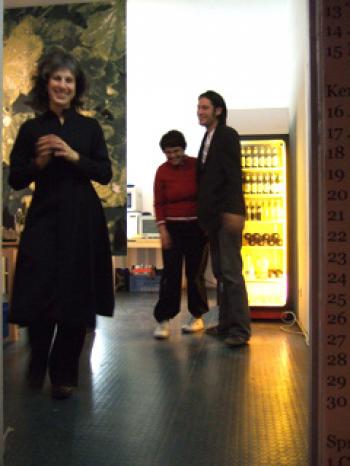 The Smug One, Arne & Jelena. Photo Aya van Caspel
Tonight is Amsterdam's Museum N8 (8 = acht, nacht = night) and amidst a whole open town of art and design venues, Grow Yer Own Dang Food micro-green cuisine is the only expression of contemporary culture and superior low carbon footprint values in the form of a restaurant. Does it get any cooler than that? Maybe if we made some money?
Speaking of totally sexy family values, I've decided that next week Grow Yer Own Dang Food is doin' Shabbat on Friday, get more of the Mishpoch to come. Avec leurs parents!
More pictures, if you please read more… (Please read more… )
debra at 18:56 | Comments (2) | post to del.icio.us